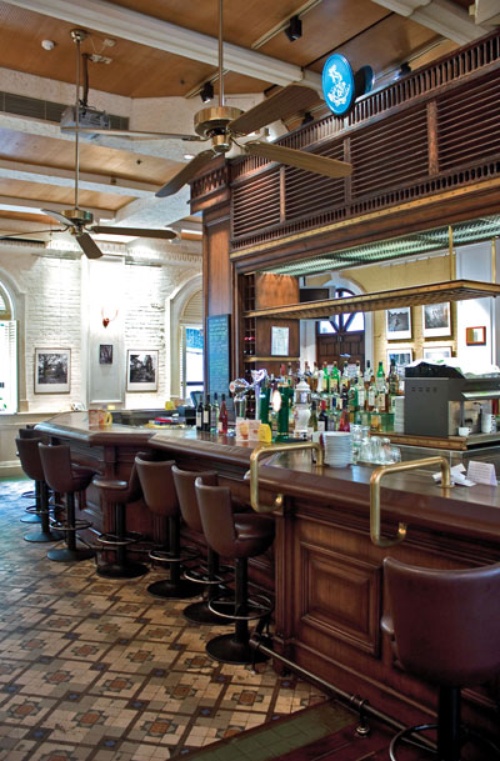 Good Night and Good Luck
Hong Kong's Foreign Correspondents' Club was once the favoured watering hole of veteran reporters, inspiring classic novels and countless brawls.
Photograph by Christopher DeWolf.
In 1974, as a typhoon bears down on Hong Kong, a gangly twenty-seven-year-old Vietnam War reporter named Luke stands in the toilets of the Foreign Correspondents' Club. Head ringing, hung over, he washes blood out of his mouth—he just fought in a brawl over a bar girl—and frantically tries to recall a juicy scoop his old Chinese landlord had let slip earlier that day. Suddenly, he remembers and storms into the bar, which is packed with journalists deep in their cups. Luke leaps straight onto a table, breaking several glasses and cracking his head on the ceiling. The room barely looks up.
So begins The Honourable Schoolboy, a 1977 Cold War spy novel by John le Carré. The book sealed the reputation of the Foreign Correspondents' Club as a place of mischievousness, harebrained schemes and occasional sobriety. For sixty-one years, the FCC has served as a hangout for some of the world's legendary reporters. Hugh van Es, the photographer who took the famous picture of Americans scrambling desperately into a helicopter during the evacuation of Saigon, was a regular until his death last year. His frequent barmate was Clare Hollingworth, the first reporter to break the news of the German invasion of Poland. (She had been driving along the Polish border when she noticed an ominous massing-up of Nazi troops.) Pushing one hundred, she still manages to drop in every day.
The club has changed almost beyond recognition since the day Hollingworth joined. The big-game reporting, and the men who pursued it, are gone. When Hong Kong was returned to China in 1997, many foreign news organizations closed their Hong Kong bureaus and opened offices in Beijing instead. More recently, the collapse of traditional news media has taken its toll, eliminating correspondent jobs and killing some of Asia's best English-language publications, like the muckraking Far Eastern Economic Review. These days, only business journalism and luxury lifestyle writing make money. Few well-established journalists practice the sort of broad-minded, general-interest reporting that was once the mainstay of good foreign correspondence.
Founded in Chongqing in 1943, the FCC briefly moved to Shanghai before ending up in Hong Kong in 1949. Its first home in the then-colonial free port was an old mansion halfway up Victoria Peak, overlooking the city, at which scenes for the 1955 Hollywood romance Love is a Many-Splendored Thing were shot. In the 1970s, when le Carré's novel was written, it was located on the fourteenth floor of Sutherland House, an office block in the heart of Hong Kong. The men's room, noted le Carré, "provided the Club's best view of the harbour." Its bar, according to long-time member Arthur Hacker, was "womb-shaped," which allowed conversations at one end to be picked up by those sitting at the other, "resulting in some spectacular punch-ups." The last stop for the club was in 1982, when it moved to its present quarters inside a Victorian-era ice warehouse at the top of a steep hill. Along with offices and meeting rooms, the club includes a bar, a dining room, a basement jazz bar and a gym. A photo of a man standing at a urinal while gazing out on the famous view from the fourteenth floor of Sutherland House hangs in the men's room.
Last February, on a warm winter evening, I met Diane Stormont at the FCC. Stormont worked for Reuters, the South China Morning Post and the Daily Telegraph. She was also president of the FCC in 1998 and 1999, the transformative period that immediately followed Hong Kong's handover to China. In other words, she belongs to the old guard.
I found Stormont sitting at the bar, dressed in her usual baggy polo shirt, jeans and runners, drinking Pinot gris. She ordered me a glass. "Until the early 1980s, there weren't many places to drink in Hong Kong," she said, and the FCC was a good spot to live by the old hack's maxim, "Never get a hangover on your own time." It was also the best place to get the gossip, both on the government—usually spread by staffers themselves—and on colleagues. "The gossip was usually only bad if it had to do with sex," she said, in which case someone would get a good thumping.
Stormont was born in Hong Kong to a British family. She was sent to England for school, but Hong Kong stayed in her thoughts, and she didn't wait long to return after she graduated in 1980. She found a job writing for Cathay Pacific's in-flight magazine. "They took me here for lunch and I joined the next day," she said. Back then, there was more drinking, more machismo and fewer rules. (Smoking made its exit with the bar fights; every twenty minutes or so during our meeting, Stormont would excuse herself and dash outside for a cigarette.)
"It was for women with no past and men with no future," she said with a wry smile and a journalist's calculated hyberbole. "Some of the members today would faint at what happened and was considered normal." Though Stormont felt out of place, both as a woman and as a young reporter with no war stories to share, it was a good opportunity to make connections and soak up the atmosphere of what everyone imagines journalism to be like.
There were some uproarious moments. When the FCC was located in Sutherland House, a policeman member stumbled into the club after a long day, stripped naked, reached behind the bar for a beer and sat down to watch television. He thought he was at home.
But that was then. Like most bits of FCC folklore, the exact details of such incidents have been lost in the hazy minds of journalists—those who deal with hard facts every day have no use for them after deadline. In his 1990 novel The Hong Kong Foreign Correspondents' Club, former Time Asia editor Anthony Spaeth called the FCC "an organization that satisfies mundane demands of its several hundred members—food, drink, companionship—but which, at the same time, labours to sustain its own slightly chimerical reputation of an exciting past." The FCC, in other words, is now in the business of creating a permanent nostalgia for better days that may or may not have existed.
That nostalgia extends to journalism as a whole. "Young journalists now work like slaves," said Stormont. In 1981, when she got into the trade, a proofreader's starting salary in Hong Kong was $7,500 HK ($1,000 CDN) per month. These days, a fresh graduate with a bachelor's degree in journalism won't make much more—most new junior reporters earn $10,000 HK. Of course, that's if they can find a staff job at all.
Few young faces are visible at the FCC; it's no surprise why. Back in the day, Stormont said, news organizations would take time to train their reporters. Now young journalists are little more than cheap labour who spend half their time rewriting press releases. The situation is bad even for veteran journalists. "I don't see the light at the end of the tunnel. I don't think anybody does," said Anthony Spaeth when I called him in Seoul, where he is now the editor of the JoongAng Daily, an English-language newspaper for expats, diplomats and Koreans learning English. "Everyone is just scrambling for whatever jobs still exist."
Spaeth was part of a wave of foreign correspondents writing for the new Asian editions of the Wall Street Journal, Time and the
International Herald Tribune. For the first time, correspondents were writing for both local and overseas readers. "That was a big revolution," he said, and Spaeth was on the front lines, working as the Asian Wall Street Journal's Manila bureau chief in the final days of the Marcos regime. "The Asian Wall Street Journal was very powerful in dictatorships like the Philippines and Korea. People would get their hands on copies, xeroxing them, faxing them around."
In 1994, Spaeth helped launch the Asian edition of Time, which took a broad, thorough look at the region. In 2006, Time-Warner gutted the magazine. "I don't read it anymore—they ended my free subscription," said Spaeth. He was one of several experienced correspondents to launch the Asia Sentinel, a web-based current affairs magazine, but it failed to find investors.
Great foreign correspondents have holes in their shoe leather and passports full of visas. They make complex stories digestible to readers, but they also unearth hidden information, hush-hush stuff, especially in countries that lack a free press. That's what happened in Cambodia in 1997, when Nate Thayer interviewed Pol Pot for the Far Eastern Economic Review, or 2006, when Tim McGirk, working for Time, discovered evidence that American troops massacred Iraqi civilians.
The FCC tries to keep this culture alive by organizing discussions with controversial leaders like Thailand's deposed prime minister, Thaksin Shinawatra, and by serving as a watchdog for press freedom. But the broader forces of news media remain beyond its control. Few outlets still support risky investigative journalism. Some parts of Asia have been written off almost entirely. "Time doesn't have a Tokyo bureau anymore," said Spaeth. "It was a robust bureau just a few years ago. Pick anything except for China and the quantity and quality of coverage has declined."
If there's a new generation of foreign correspondents, it's made up of freelancers writing for a smattering of print and online publications. Mitch Moxley has worked in Asia since 2006, when he travelled to Vietnam and reported on the lingering devastation of Agent Orange for Maisonneuve. He moved to Beijing the following year, which he uses as a base to travel around Asia; some of his most remarkable journeys to date have sent him on the trail of human traffickers to Macau and into
the bizarre underworld of Mongolian neo-Nazis. Moxley self-finances his trips and spins five or six stories out of each one, mostly for travel publications, which often pay better than news magazines or websites. It's exhausting. "I flirt with the idea of leaving every six months," he said.
Most of the reporting coming out of Asia these days is from the desks of wire services like Reuters and Bloomberg. They have been a boon to the FCC, buying corporate memberships and letting their staff loose on the bar. They have also been a lifesaver for journalists who jumped off the sinking ship of general-interest media: salaries are good, expense budgets generous and, in Bloomberg's Hong Kong office, there are free lattes and pastries. But their focus is mostly on business and financial news, and some doubt the ability of the financial media to carry the torch of foreign correspondence. One veteran journalist I spoke to, who didn't want to be named, recalled a story that Bloomberg submitted to be considered for a journalism award. It claimed to be an exposé on the backroom machinations of the Chinese Communist Party, but it was "just thoroughly nonsensical," said the journalist. "It probably took months to do the reporting, but they didn't know how to write or edit it. Bloomberg has a real hard time with enterprise stories."
The most upbeat journalist I encountered was Tom Mitchell, sitting president of the FCC. I met him in the club's top-floor dining room, where he sat in the corner with an entire table to himself. Mitchell is handsome, with tousled brown hair and strong features—like a Hollywood version of a veteran journalist. He was born in Massachusetts but raised for several years in Tehran, where his father worked for IBM and "sold computers to the Shah." His family returned to the US just before the Iranian Revolution. He found life in America excruciatingly boring, especially when he watched TV and saw what was going on in Iran. "I became a news junkie at eight years old," he said.
In 1992, he came to Hong Kong on a university exchange and ended up staying. He remembers his first visit to the FCC and how it reeked of smoke. "It was a grisly, intimidating place full of adults," he said. "Now it's totally smoke-free, thank God." He didn't join until 2003, when he was thirty-three.
Mitchell is now the South China correspondent for the Financial Times. He doesn't have the same tendency to indulge in boozy nostalgia as some of his colleagues. "I work for the Financial Times," he joked. "I can afford to be optimistic." Still, he acknowledges the extent to which foreign correspondence has crumbled, especially in Hong Kong. "The sad thing," he said, "is the loss of the titles—no more Washington Post, Times of London, Guardian, BBC. I mean, who is writing for the Globe and Mail from Hong Kong?"
There's also the loss of what once separated journalism from any other profession. "One of the things I like about journalism," said Mitchell, "is that it harbours interesting characters." Web-based, updated-by-the-minute journalism, however, doesn't leave much room for colour. Mitchell has to cover his daily beat, work on trend stories, long-term investigative projects—and write a daily blog if he has any time to spare.
After an hour of chatting with me, Mitchell's phone began to buzz. He had to go back to work. (Phones are meant to be turned off in the club, but nobody follows this rule, not even the president.) I followed him downstairs and gazed into the bar, which was full of men in suits and women in prim office wear. It reminded me of the private club where my dad was a member when I was a kid—it had the same businessy buzz, the same empty laughter and eager networking. The early days of Stormont's presidency were dominated by uncertainty—the club was in dire need of renovations, and the shaky political and economic atmosphere of the first post-handover years threw its very existence into question. Now, according to Mitchell, the FCC has around two thousand members, about 70 percent of whom are associate members: business executives, public relations people and lawyers. The correspondents might be leaving, but Mitchell seems satisfied with the direction the club is heading. "My operating philosophy is: it's not broke, so don't fix it," he said.
During our drink, Stormont told me the club had become more "politically correct" since the handover—the correspondent members who left were replaced by members who pay significantly more than journalists, all for the privilege of belonging to a club with a colourful history.
Stormont's presidency was the end of an era, and it passed with appropriate flourish. A week or so before Stormont's term was about to end, she was sitting in the FCC's basement sauna with Hugh van Es—who had all but retired from photojournalism at the time—drinking scotch and reminiscing. He decided to toast Stormont by throwing his scotch on the sauna's hot coals. The entire thing went up in flames. "He was following a Scandinavian tradition of throwing vodka on the coals, except we were drinking scotch," she said, chuckling. Stormont and van Es were unhurt, though a $45,000 HK repair bill was sent to the FCC's insurance company. "We had to act contrite and hide how we really felt," said Stormont. And how was that? She lowered her voice. "We thought it was hilarious!"
By that point, Stormont and I were on our second glasses of wine, and the bar was growing increasingly boisterous. I looked around: a high-ceilinged space with beige-painted brick walls, a dark wood bar, a tiled mosaic floor, pillars decorated by old magazine covers and photographs. It was cozy and agreeable, the kind of clubhouse I would seek if I were a more sociable journalist. Stormont seemed especially comfortable—it's her second home, really, a regular stopover between work at the University of Hong Kong and her home on Lantau Island. I counted a little over forty other people in the bar. I asked Stormont
how many of them were journalists. She examined the crowd. "Four," she replied. Ten minutes later, Patrick Smith, a correspondent for the International Herald Tribune, sat down next to us with a newspaper under his arm. "Now there's five."
See the rest of Issue 37 (Fall 2010).
Related on maisonneuve.org:
—Citizen Uprising
—How to Become a Street Artist in Hong Kong
—Adult Language
Subscribe — Follow Maisy on Twitter — Like Maisy on Facebook