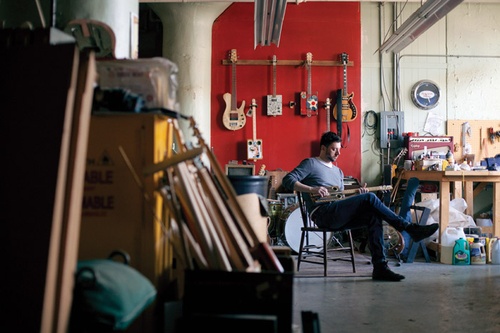 Photograph by Richmond Lam.
Cigar Notes
A small Montreal workshop is reviving a Depression-era instrument.
PINNED TO THE DOORFRAME at Daddy Mojo, a guitar workshop in Montreal's Mile End neighbourhood, is a photograph of Jack White holding a Stove Pipe, one of the shop's black-and-chrome cigar-box instruments. Lenny Piroth-Robert's face lights up as he tells the story. In 2009, he and his business partner, Luca Tripaldi, heard that the White Stripes guitarist would be in Montreal with his new band, the Dead Weather, and decided to gift him one of their creations. The day of the show, the two handed off the Stove Pipe to a member of the Dead Weather's road crew and returned home, only to receive a phone call from the tour manager. White loved the guitar, and they were on the guest list. At the Olympia theatre that night, as Piroth-Robert went to grab a drink, a familiar tone rang out behind him. "He took the cigar-box guitar and he did the whole song in open G minor," says Piroth-Robert. "It sounded amazing." 

Daddy Mojo has been manufacturing electric cigar-box guitars for seven years now. It's never been an easy job. A tough economy has served as the backdrop for the surprising growth of Daddy Mojo's business, but that hardship is fitting. After all, the cigar-box guitar is a signature instrument of the Great Depression, and thanks to Piroth-Robert and Tripaldi it has made a resurgence in today's recession culture.  

Daddy Mojo's studio is a music nerd's paradise. Posters of rock musicians share wall space with vintage gear. Huge, multi-paned loft windows cast natural light over an impressive array of guitars. The cigar boxes that make up their instruments are stacked twelve feet high. Low-wailing blues in the background conjures visions of a guitar maker lovingly crafting his instruments in solitude.

No stranger to isolated toil, Piroth-Robert was working six days a week as an artist when he stumbled upon an antique cigar-box guitar. "It just touched me; as an object, as a functional work of art, as a testament to hard times and music that I loved from the thirties," he says. "So I made one." He'd been taking guitar lessons from roots-blues and ragtime musician Dan Livingstone and decided to show off his pet project. "He was like, 'Wicked, bro, make me one and I'll give you free classes!'" Piroth-Robert says. Soon he was making them for his musician friends, and eventually he began selling the instruments on eBay.

The guitars weren't always well received. In the early days, some other luthiers dismissed the cigar-box guitars as "crude, mom-and-pop, basement things," Tripaldi says. But, in 2006, Playboy published an article about Daddy Mojo's work. Hundreds of orders started pouring in, forcing Piroth-Robert to start a dedicated studio and enlist Tripaldi's help. "We figured the Playboy thing was going to come and go," Piroth-Robert says. "We'll build a hundred guitars and get back to our lives." But their customers had other plans. Guitar magazines started to query them for ads and instruments to review, and things kept snowballing from there. The list of bands that have played their guitars now includes U2, Band of Horses and Broken Social Scene.

Daddy Mojo's production schedule has become so hectic that both men work close to sixty hours a week making instruments. "Any time we have them on display, we always get people stopping and eyeballing them," says Jay Kee, the owner of Kickaxe Guitars in Calgary, which stocks Daddy Mojo. The brand draws in all types of guitarists. "Customers come in who've never played an instrument before and just fall in love with them because they're so easy to play." A Louisiana native once saw a guitar in Kickaxe's window while driving by and immediately turned around. "He said he'd been looking for something like this for years," Kee says. "That's someone from the heart of the Mississippi Delta, where these instruments originated, and it was love at first play."

The cigar-box guitar dates back to the American Civil War. Soldiers were known to invent makeshift instruments on the battlefield, and an 1876 etching by Union Army artist Edwin Forbes depicts a man playing a fiddle made from a cigar box and a wooden stick. But, as Kee points out, the instruments rose to prominence in the Southeastern US during the Depression, when manufactured guitars weren't readily available to most. According to Bill Jehle, author of One Man's Trash: A History of the Cigar Box Guitar, artists capitalized on the "constructed myth" of the instruments. "The blues musicians found that people liked this idea of the poor fellow, son of a dirt farmer," he says, and the cigar-box guitar's homemade nature sold that idea well. Most famously, Bo Diddley played them throughout his career.

Daddy Mojo is currently building a custom pinto guitar for a Chicago musician named Mississippi Gabe Carter, whom Piroth-Robert calls "one of the best living blues guys that I've heard of." The admiration is mutual. The thirty-year-old Carter says it's the primal nature of the guitars that make Daddy Mojo's work so unique. "To me, it really takes you back to roots in America, but also what came over from Africa," he says. "It's the same concept as the instruments from there; a stick with a gourd, maybe a gut string."

This history gives the guitars their mystique, and explains why the last few years have been the perfect time to sell them. Daddy Mojo was hit hard by the 2008 recession; there wasn't enough work for two people, so Tripaldi returned to school to take a course on professional industrial finishing. But once sales improved he returned to the shop with what Piroth-Robert calls "a whole new insight" into the work. "In the long term," Tripaldi says, "the economic downturn kind of boosted that image of getting 'back to roots.'"

The original version of this article misquoted Bill Jehle, and incorrectly referred to the unidentified wooden stick depicted in the Forbes etching as a broomstick. Maisonneuve sincerely regrets the errors.