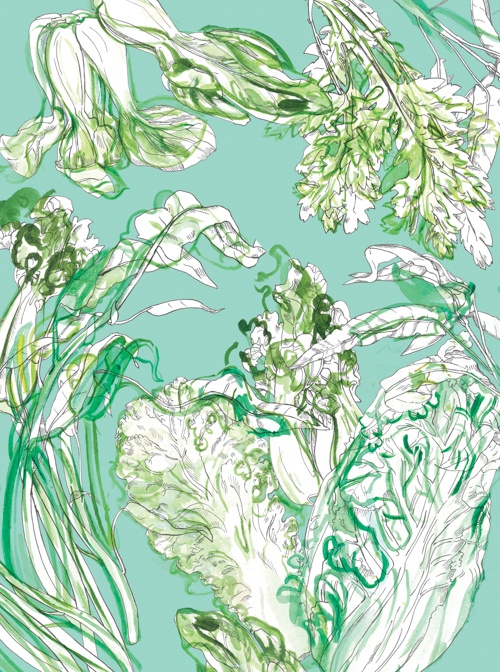 Illustration by Charlotte Guay Williams.
The Fruits of Their Labour
The neglected history of Chinese-Canadian farmers in Vancouver.
On Sunday mornings, twenty-seven-year-old Caroline Chiu sells vegetables. She spreads her week's harvest across two foldable tables at Vancouver's Mount Pleasant farmers' market, tucked between an elementary school playground and a grassy patch known to locals, thanks to a Big Lebowski-esque statue, as Dude Chilling Park. Chiu's tables are loaded with choy sum, gai lan, bok choi, pea tips, chrysanthemum leaves and napa cabbage—familiar, familial fare that she grew up cooking and eating. Chiu grows it all at Golden Choy Farm, which she stewards with business partner Brendan Lench in Richmond, just south of the city. The plot is on Kwantlen Polytechnic University's Richmond Farm School, where she is employed as the farm school coordinator, working with students on business plans for half-acreages like hers.
Golden Choy's offerings are staples in many Cantonese households. But in many farmers' markets around town, it's ...