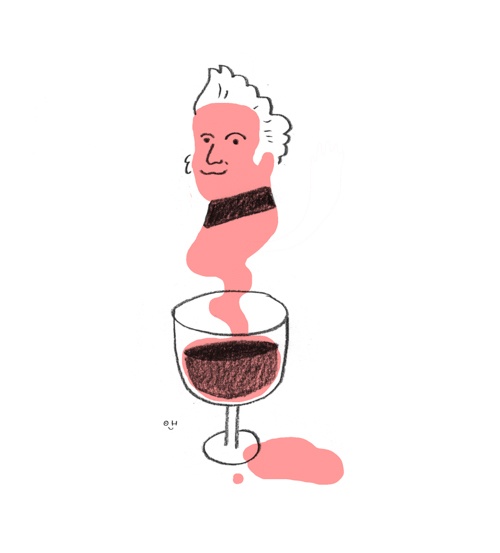 Illustration by Ohara Hale
A Site for Soirées
440 Bonsecours is home to Louis-Joseph Papineau's ghost—and a weekly dinner party.
"To a place where you would have never met otherwise," said Emory, raising his glass. Around the table, twelve of us joined the host's toast as a chef on his day off from Maison Publique emerged from the kitchen with a plate of steaming cauliflower.
I joined Emory and eleven other early-twenties diners for a new Monday night tradition. Though we were a typical collection of students and young graduates, we were not in a typical Mile-End student apartment—no collection of beer bottles, no ashtray full of cigarette butts. Rather, it featured antique furniture and a long, dark oak table, which, admittedly, has been used to play beer pong. We all made an effort to dress a little more chic than usual, as if rising to meet the spirit of the house.
440 Bonsecours Street is in the heart of Old Montreal. Save for a tiny plaque, nothing about the building indicates that it is a special place. But in this house, Louis-Joseph Papineau started a francophone revolution. There wasn't room for two languages in Papineau's Montreal, and to this day, the aftermath of his uproar continues to echo throughout the city. At this party, francophones and anglophones blended together, switching from one language to the other. Papineau would have hated it.
Louis-Joseph Papineau was the leader of the mid-nineteenth-century Patriote movement in Lower Canada. The French-Canadian nationalist devoted his life to fighting the British occupation of Montreal. Known locally as both a hero and a conspirator, Papineau was one of the first to defend the importance of French culture in the city.
Between 1819 and 1837, Papineau and his wife had climbed the same staircase I used to reach the top-floor apartment that was now my friends' home. It was here that Papineau drafted the ninety-two resolutions of 1834: a long list of political demands for the British-governed colony, including the reinstatement of the French as head of government and French as the leading language in Montreal. While the government of Lower Canada adopted these resolutions, they were later rejected by the British government.
In Montreal, Papineau's efforts were met with uproar by anglophones. On November 6, 1837, a loyalist group called the Doric Club attacked Maison Papineau: the bloody protest rang in the start of many armed confrontations between the two sides. The battles lasted two years, during which Montreal fell under military control, and only ended when Lower and Upper Canada were forcibly united as one political entity under the Act of Union in 1840. Papineau, however, wasn't around to witness the end of his rebellion: in 1839, after a warrant had been issued for his arrest, he fled first for New York and then to France.
In Papineau's time, his home on Bonsecours was in the heart of the city. After he left, the neighbourhood slid into decrepitude as families moved closer to Mount Royal and businesses moved to Saint Catherine and Saint Laurent. By the 1990s, after decades of laying fallow, renewal efforts aided what is now called Old Montreal in recovering most of its old world charm, but not much of its glory.
Fast track 176 years from Papineau's flight: summer 2015. Emory, along with two friends, moved into the old home. While the Government of Canada bought the building in 1982 and Parks Canada began to transform it into a site commemorating Papineau, Emory was able to take over his grandmother's lease of the attic apartment. Inspired by Papineau, the three decided to host Monday night dinners. They select a diverse guest list, asking each diner to cover food and drinks, and bring their best conversation.
There's no doubt that hidden between the cracks of each hardwood floor panel and recessed window are countless secrets that helped forge Montreal's identity. Empowered by this almost tangible force, the boys have transformed the home into a modern day salon: an incubator where graffiti artists, startup entrepreneurs, chefs and DJs cross paths.
In the presence of Papineau's ghost, we eat roast beef and digress in both national languages. As the conversation with my neighbour starts to fade, I listen in on a Québécois bartender wearing oversized glasses explaining in English why she believes Prague is the new Berlin.
In this home where Papineau crafted a French rebellion, we're rekindling that revolutionary spirit not by breaking away from the other, but by bridging the cultural gap that plagued him.