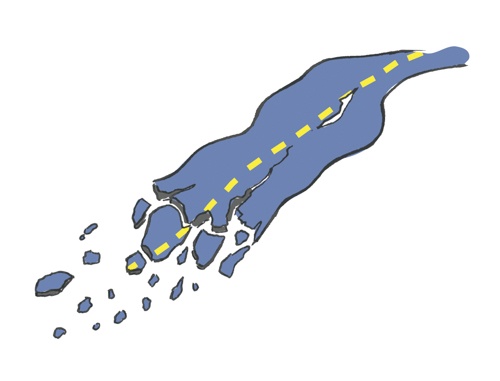 Illustration by Monika Waber.
Rocks, Holes, Dynamite, Heart
Excerpts from the novel Les Murailles, translated by Melissa Bull.
I.
Tonight, I'm eating on my own like a big girl. Got to the kitchen late. There are a couple of guys hanging around but it's not like at rush hour. I grab myself a table and plaster a willing expression across my face; I'm inviting folks to chat me up. It doesn't work. You must think that if I wanted to talk so much I shouldn't have sat there on my own, away from everyone. But it's not that simple. I don't want to bother the guy who's just eating silently. The guy who looks at his plate like he's out of breath, who hasn't shaken off his day yet. He's got to decompress. If he wanted to talk to someone he'd figure it out. So I mind my own beeswax.
I get the lasagna. I could ...