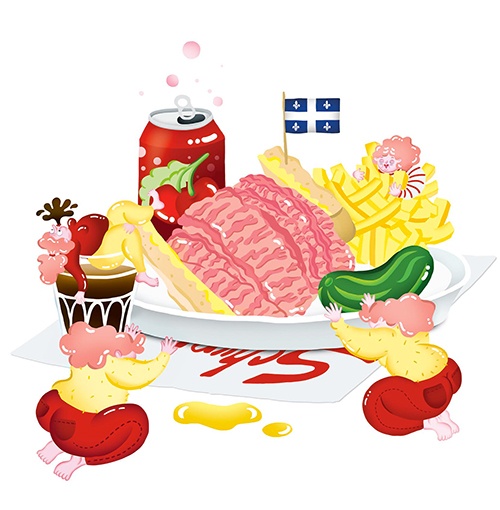 Illustration by Sophia Hydman.
A Schwartz's in Paris
Due North of the Arc de Triomphe's starbursting giratoire, in the tourist-free seventeenth arrondissement of Paris, I caught sight of a beacon from back home. The sign promised to satiate my North American taste for meat with a cut of beef far more familiar than the Parisian penchant for steak tartare and tripe: it was Schwartz's cherry red logo, signature swoosh and all.
Those who were initiated at the Hebrew Delicatessen on The Main—the once Jewish-settled artery that fed working class immigrants and buffered Montreal's Anglo and French solitudes with shops and factories—know that there is a certain level of devotion one must bring to the table. The sandwich is to be eaten with a Cott's Black Cherry soda, a side of fries and a single kosher dill pickle, all served on separate plates. If you must ask your server to hold the yellow mustard, you won't be charged a rule-breaking fee as is threatened at Wilensky's Light Lunch on Fairmount, but you'll get a suspicious glare and a grunt from the sandwich maker forced to work against his muscle-memory mustard-swiping rhythm. And when asked how you'd like your sandwich, the only correct response is "medium fat."
In Paris, after ordering, I sat ready for the question to be asked, but my waiter was already on his way back to the kitchen. Over my shoulder, another waiter asked a patron how they'd like their Yankee Burger. "Saignant." When my waiter returned with the Dr. Pepper I'd settled for in lieu of a cherry soda, I asked if the establishment and its two sister locations in Paris were affiliated with the Montreal institution. "Non," he huffed.
Burgers, currently on trend in Paris, take up the first page of doppelgänger-Schwartz's menu. In another strange inversion, English precedes French, and is even a few font points larger. Smoked meat—the ambiguously named pièce de resistance of the original Schwartz's sandwich—is nowhere to be found on the Paris menu, and neither is viande fumée. Instead, page two offers options for smoked meat's New York cousin: pastrami.
Both deli meats hail from a tradition brought to the New World in the early nineteenth century with Jewish Romanian immigrants, but their development hit a fork in the road thanks, in part, to the impacts of British imperialism in Canada. In the United States, pastrami is made with navel, a dense and fatty cut from near the belly. North of the border, British butchery standards made navel harder to come by, making brisket—a stringier cut from the forequarters—the standard for smoked meat. Schwartz's secret spice mix, coupled with an eight-decade build-up of schmutz (the fat and spices that have accumulated on the smokehouse's brick walls), add essential flavour to their sandwich, and partially explain why the Montreal institution hasn't franchised with another location. Schwartz's schmutz wasn't built in a day.
Schwartz's Montreal nearly lost its possessive apostrophe, an Anglo attribution outlawed chez nous, when the French Language Office came knocking in 1996. The name, apostrophe and all, is under copyright protection in North America, but not in France, which is how the French franchise gets away with its knock-off branding. In Paris, the punctuation mark is deliberately exotic, casually dotting signs around the city.
The unaffiliated Parisian pastrami comes in three sandwich varieties: The Best Hot Pastrami Sandwich, The Reuben, and The Very Best Hot Pastrami Sandwich. The best offers hot pastrami topped with barbecue sauce; the Reuben, hot pastrami with coleslaw, onion and melted emmental; and the very best, hot veal pastrami with honey mustard. As a rule-following devotee of Schwartz's Montreal, I'd opted for the latter because it felt closest to the original.
As I sipped my Dr. Pepper and waited, I looked to the walls for reassurance. At home, I'd find a newspaper-cut pantheon of Montreal idols: Céline Dion, Mordecai Richler, retired Habs players, offering B-list blessings over bifteck rituals. In their stead, I found black and white photos of the Guggenheim and the Chrysler Building, and advertisements for Budweiser beer and Francis Ford Coppola wines. Lording over it all, Uncle Sam pointed down defiantly at the dining area, reserving the right to refuse service to anyone—"This includes YOU." I began to indulge in a favorite Canadian pastime: taking quiet offense, but also pride, over the French-American repackaging of our very best.
It wasn't the taste of home I came for, but I relished the feeling—and the sandwich—nonetheless. I threw out the rulebook. "Garçon," I called, as I finished my Dr. Pepper. "I'll take a glass of Coppola Rosso California Blend." Vive la différence.