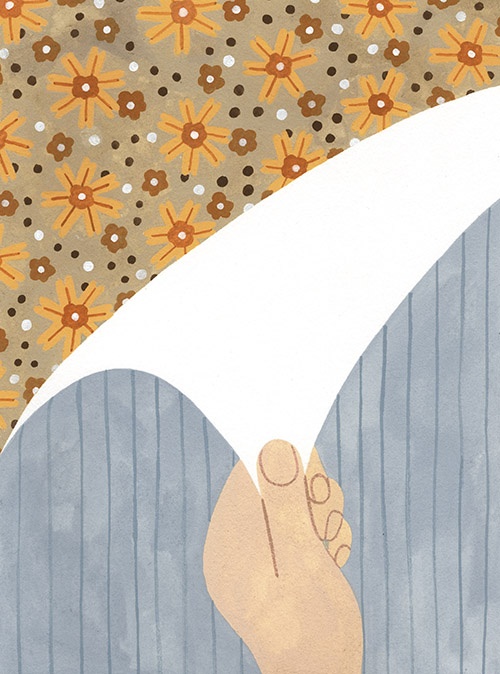 Illustration by Lily Snowden-Fine
The Men in Apartment 4C
When Isaac Würmann's relationship began to crumble, he started seeking out examples of queer love elsewhere. It turns out, he didn't have to look far.
The summer I moved in with my first serious boyfriend, he transformed the sunroom adjoining our bedroom into a studio for me to write. He painted the room white, built a shelf into one of the walls and hung a lamp from the ceiling. I moved my small desk into the room, next to the window, so I could watch the courtyard below.
Our apartment was on the top floor of the building. From the sunroom, I could see everyone who came and left through the front gate and gaze into the windows of most of the apartments that formed the U-shaped block. I became enchanted by the rhythms of the space, and I often thought about the hundreds of people who had moved through it before me.
Built in Winnipeg in 1912, the Pasadena Apartments loom over the corner of Hugo Street North and McMillan Avenue, just south of a bend in the Assiniboine River that separates the city's North and South ends. It's the kind of heritage building that transports you to another era. When it was built more than a century ago, the neighbourhood was being developed for the city's elite. The building's architecture reflects this status, with its brick facade, red-tiled roof and spacious units. Today, it's a relatively affordable place to live in a trendy area—home to students, young families and artists.
The Pasadena was where I first fell in and out of love. My boyfriend had already been living in the apartment when I joined him there in 2018. We had been doing long-distance for a year as I finished university in Ottawa, and moving in together felt like the natural next step.
Growing up in Winnipeg, I had always fantasized about living in one of the grand apartment blocks of the city's older neighbourhoods. I loved the Pasadena's creaky floorboards, big windows and high ceilings. I loved the way its name conjured images of warmer climates in the wintery city, and the way mature elms hugged the building from all sides. I even grew to love how stifling hot the apartment became in the summer, and the fact that it became even hotter in the winter, with steam radiators that threatened to burn your skin if you got too close.
My relationship with my boyfriend had always been tumultuous, with high highs and low lows, but when we started living together all of those challenges were laid bare. Jealousy, resentment and dishonesty started seeping through the cracks in our connection. Through it all, the Pasadena swaddled me in its warmth and made me feel safe. I clung to the building, even as my reason for being there was slipping away. To distract myself, I started learning as much as I could about the Pasadena, becoming an expert in its history, architecture and stories.
One day, I visited the local history room in Winnipeg's downtown public library to find out more about the people who had lived in the building before me. I was leafing through the city directories of the past century when I came across the names of two men who were listed together under the same address: John Clark and Sandy Gordon.
With time, I'd come to learn that John and Sandy lived in apartment 4C for fifty years. They were among the building's longest tenants—and a gay couple who spent their lives together in a world that would have rather kept them apart.
Coming of age as a gay man in Winnipeg nearly a decade earlier, I learned to look for queerness all around me. It wasn't hard to spot. In the centre of the city, on top of our legislative building, stands a nude statue of a buff man with a firm bum, flowing locks and an angelic face. He's our Golden Boy, a local symbol and muse for the city's poets, musicians and artists. Manitoba bought the statue, which is inspired by the Roman god Mercury, from France in 1918. Known as a trickster god, Mercury acts as a messenger between the divine and mortal realms, an interpreter who bridges boundaries between strangers.
I was thrilled to learn, as a young man discovering my own sexuality and desires, that for decades the Golden Boy—and the torch he held above his head—was a beacon for men craving intimacy or release with other men. For more than forty years, the hill behind the legislative building was an active cruising ground. "The torch of the Golden Boy burns brightly in the night, attracting not moths as some lights do, but another kind of night creature, the homosexual," wrote journalist Peter Carlyle-Gordge in Winnipeg World in 1969.
Winnipeg wasn't New York, San Francisco, Berlin, or any of the other queer capitals of the world, but that doesn't mean queer people didn't carve out spaces for themselves in the city. Rather, Winnipeg was a destination for "queer migrants," explains Valerie Korinek in her 2018 book Prairie Fairies. Since it was the largest city between Calgary and Toronto, queer youth from small towns and rural areas throughout the prairies and northwestern Ontario gravitated towards the metropolis.
When I made my own move back to Winnipeg, I was yearning for a similar kind of connection. Returning home for love meant leaving behind the circle of friends I had established in Ottawa and the feeling of security they gave me. As my unstable relationship started fraying at the edges, I turned to queer community to hold me and I searched for other places that felt like home. I began going to drag shows every weekend, and for the first time in my life I surrounded myself with a circle of queer friends.
At the same time, I became a voracious consumer of any information I could get my hands on about Winnipeg's queer history. It was important for me to see examples of people who inhabited these spaces before me.
I learned about Chris Vogel and Richard North, who married in a Unitarian Church in Winnipeg in 1974, decades before same-sex marriage was legalized in Canada. Their relationship became a catalyst for national conversations about legal protections for queer couples. I read about Albert McLeod, who has paved the way for broader recognition of Two-Spirit people in North America since the mid-1980s. I researched Dick Smith, a gay doctor who has fought for better treatment of people with HIV/AIDS since the early days of the epidemic.
I revelled in learning about the people who put their bodies on the line in the city's early queer spaces. I admired the activists who rallied beneath the Golden Boy, calling on the lawmakers inside the legislature to recognize their love and humanity. These were the people I was eager to claim as part of my extended chosen family, the people I was proud to call my queer elders.
Maybe most of all, I was excited to learn more about John and Sandy so that I could place their story within this radical history. But I'd soon realize that making sense of our elders' lives—and understanding what it is they can teach us about our own—isn't always so simple.
Every day for more than a year, I walked past the door to John and Sandy's old apartment on my way in and out of the building. I felt their presence, and I began to construct an image in my head of who they were and the life they had created behind that door. I hoped to see in them a representation of queer love that I could aspire to.
I began seeking out their friends, colleagues and other people who lived in the Pasadena around the same time — anyone who could tell me more about them. Slowly, I started piecing together their story. 
Sandy Gordon was born in the small town of Grantown-on-Spey in the Scottish Highlands in 1935. "It's not much more than a village," says his brother Grant, who now lives in Edinburgh. "Everyone would more or less know everyone." Grant was eleven years younger than Sandy, and along with their eldest brother Angus, they were raised on a farm just outside of town, surrounded by rolling hills and fields of heather.
"It was a lovely existence for a child," Grant says. "The only problem was we were about three miles from the closest young people. We had to make a lot of our own entertainment, and Sandy was good at that." After graduating top of his class from the local grammar school, Sandy studied French and German at the University of Aberdeen, and later moved to Paris to pursue graduate studies.
An ocean away, John Clark was born in Winnipeg in 1932 to a father who had immigrated from Scotland about twenty years earlier, and a mother from Quebec. His father was a railway worker who had served in the First World War. Like Sandy, John showed academic promise from a young age. He was awarded scholarships at the University of Manitoba for his undergraduate studies in French, and in 1954 he was offered a scholarship for his graduate studies at the Sorbonne in Paris. 
John and Sandy met in Paris in the late 1950s. They ran into each other while John was living at a residence for Canadian students in the city, according to their longtime friend and colleague Alan MacDonell. "From what John told me, they were a couple from the start," he says. They found their way back to Winnipeg by 1962, where they both got jobs as French lecturers at the University of Manitoba. By the following year, the young couple had moved into apartment 4C of the Pasadena, where they would live out the rest of their lives.
Both John and Sandy were deeply respected in their fields of sixteenth and seventeenth century French literature. They rose through the ranks of the university's French department, with John eventually becoming the department head. They each had full lives outside of work, too.
John was an accomplished pianist. People who lived in the building at the time recall music filling the courtyard when he would play the grand piano he had shipped in from Czechoslovakia. For years, he had a column in the Winnipeg Free Press where he reviewed the latest classical music releases.
Sandy, meanwhile, was something of a Renaissance man. At various points in his life, he took up furniture making and watercolour painting. His brother Grant has at least one of his paintings—a caricature of contemporary politicians. Sandy's chairs and other paintings are scattered throughout the homes of friends and family around the world.
Over the fifty years the couple lived in the building, their apartment grew around them, eventually becoming an integral part of who they were. "It was a creation," says MacDonell. Their shelves were stacked with hundreds of books and records, and their walls adorned with art. They had a Persian carpet that they picked up in New York and a sofa in the living room that they got from an estate sale. MacDonell always admired the curtains, which were dark green velvet. "Bit by bit, they created a home," he says.
John and Sandy also built a robust social circle around the apartment. They were well-known for their lavish dinner parties, where you could always expect good food and drink. MacDonell remembers the first time he was invited to one of these parties. "It was very intimate," he says, recalling the delicious meal and engaging conversation. Their apartment—and the social life they built around it—was important for John and Sandy because it "reinforced their image as a couple," MacDonell says. It was a space they created that was entirely their own, and which they had absolute control over, including who they let in.
Domestic spaces were crucial before public queer spaces became more common and accepted. Middle-class queer people such as John and Sandy could "let their hair down" behind closed doors, says David S. Churchill, a professor at the University of Manitoba who studies queer history and the gay liberation movement of the1950s and 1960s. But these spaces were also a privilege, and reflected an ability to afford a dwelling with a lock on the door, away from nosy neighbours and prying landlords.
In 1956, around the same time that John and Sandy met, James Baldwin published his celebrated novel Giovanni's Room. Set in Paris, it tells the story of a torturous love affair between the self-loathing gay narrator David and an Italian bartender named Giovanni, who seems immune to the shame felt by his lover. The novel's titular room becomes a representation of the disgust David feels for having found a home in the arms of Giovanni. It's described as small, dark, cluttered and claustrophobic. This manifestation of the "closet" is in many ways the opposite of the warm and comfortable home John and Sandy created in the Pasadena.
David meets Giovanni after being evicted from a room he was renting in Paris. Both men experience housing precarity, which forces them to seek out other queer spaces where they can live their lives. The two men meet in a gay bar, and at the end of the night David returns to Giovanni's cramped room. Behind the door to his room, they are finally able to give in to their desire for each other, but even there they feel unsafe. Whenever Giovanni hears people outside, or sees shadows loom against the window, David describes how he "would stiffen like a hunting dog and remain perfectly silent until whatever seemed to threaten our safety had moved away."
From the beginning, I romanticized the life John and Sandy had in their apartment. I fantasized about turning my own home into a similarly cozy and secure place, where people could let their guard down and feel safe.
But I also began to wonder how often they feared a knock on their door, or a gaze through their window. 
When John and Sandy moved into the Pasadena in 1963, the place to go in Winnipeg if you were gay was the Mardi Gras downtown. Although it wasn't explicitly a gay bar, the Mardi Gras had a lounge on its second floor that was known to attract a gay clientele. At the time, homosexuality was still a crime in Canada. Gay men could be arrested for having consensual sex, or fired from their jobs if their sexuality became known to their employers. Same-sex acts in private between consenting adults weren't legalized until 1969.
The following year, the first explicitly queer business was established in the city: Club 654. In Prairie Fairies, Korinek explains that Club 654 was a "cheeky name"—insiders understood that it meant "Club 69." The bar is long gone, and Winnipeg has seen a steady turnover of queer spaces ever since. In fact, one of the longest-running gay bars was called Giovanni's Room. It was the place to go dancing or watch a drag show from 1982 until it closed in 2013, by which time it had shortened its name to Gio's.
I often found myself wondering if John and Sandy would have frequented those spaces. I like the idea of them enjoying a cocktail at the Mardi Gras, or spending a night out dancing, surrounded by other queer lovers. But I was surprised to hear from their friends and family that it's not likely the couple enjoyed the city's burgeoning queer nightlife.
Those who were close to John and Sandy tell me they were relatively discrete about their sexuality. Their friends all knew they were gay, but the couple rarely spoke openly about it. They didn't like the idea of drawing attention to themselves in that way, friends say. Sandy's nephew Iain recalls how John and Sandy rarely showed any public displays of affection, except for the occasional tap on the hand. He speculates that perhaps it was in their nature to be private, but he also wonders if it had to do with habit, and of growing up in a time when they had to hide who they were.
I could understand where they were coming from. In those days, it would have been risky to associate oneself with the increasingly visible gay community. In Winnipeg, men cruising the legislative grounds faced the very real threat of violence and arrest. Gay bashings increased through the seventies and eighties, and gay men reported being beaten up outside bars. Prior to 1995, when sexual orientation was included in the Charter of Rights and Freedoms, John and Sandy could have feared for their jobs and housing security should their sexual orientation have been discovered.
But the local gay rights movement was growing and getting louder. In 1971, while John and Sandy were working at the University of Manitoba, a group formed to represent gay students on campus. The following year it would become known as Gays for Equality, which by some accounts was the first gay liberationist organization in Manitoba. Phil Graham, who started the group, says gay life was "non-existent" on campus up until that point. He doesn't recall John or Sandy being involved or lending their support to the group, although he admits that names don't come easily to him after nearly fifty years. Hearing this, I held out hope that John and Sandy had helped out in other ways, or that this was a case of lapsed memory.
Two people who were active in Graham's group were Chris Vogel and Richard North, the couple whose 1974 marriage would go on to make national headlines. Vogel says that public representation was "critical" to the movement at that time. He and North were calling on queer people across the city to come out if they felt safe enough  to do so. For more than a decade, Vogel even hosted a TV show called Coming Out on a local-access cable channel that featured the stories of queer Winnipeggers. Despite this fact, Vogel tells me he doesn't remember John or Sandy, either.
At every turn, it seems John and Sandy resisted making their sexuality a focal point of their lives. "They were not political in the usual sense," says Mark Gabbert, a history professor at the University of Manitoba who knew them as colleagues. Gabbert's office at the university was in the same building as John's, and they built a friendship over their shared interest in the piano.
While the couple didn't come out at work, Gabbert says they didn't "nail the closet door shut either." They had their friends at the university who were offered a glimpse into their private lives, often in the form of an invite to their dinner parties. But at the end of the work day, John and Sandy still got into their separate cars before going home. "Maybe I assumed they were gay," Gabbert says."But certainly I don't remember talking about it with anybody."
Others who knew the couple told me they weren't active in political organizing and didn't always approve of the actions taken by gay liberationists. The demonstrations led by Vogel, North and others in front of the legislature building were happening just a twenty-minute walk away from their apartment in the Pasadena. Yet by all accounts, John and Sandy never took part. Vogel tells me that many middle-class white gay men made the same choice at the time.
Even though John and Sandy didn't owe me anything, it disappointed me to learn this. I had wanted them to be radical freedom fighters who championed their queerness and stood on the front lines of gay liberation. But it was becoming increasingly clear that that wasn't who they were.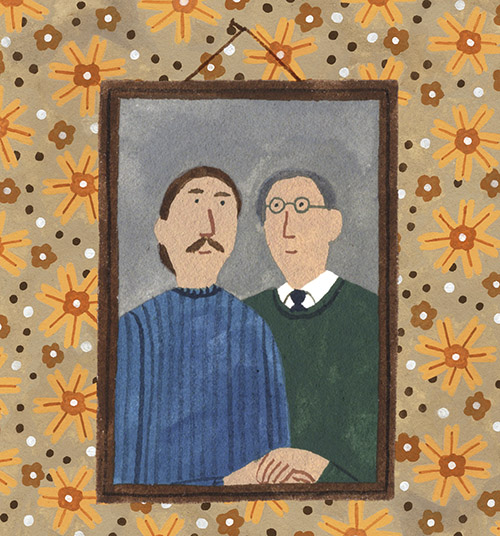 The story of the men who had lived downstairs wasn't taking shape in the ways I had imagined. But in another sense, their life together went beyond my wildest expectations. I learned that John and Sandy spent nearly every summer in Paris, and their time there sounds like it's ripped from a novel.
They rented an apartment in Montmartre from a woman named Claire Montag, who had been the lover of the influential art naïf painter Jean Eve. Iain often visited his uncle in Paris, and remembers staying in a room that was brimming with paintings. The apartment had a rooftop view of the city. He recalls long lunches, always with a martini, and conversations about art and literature. "It really opened my eyes," he says. "It was a culture I hadn't been a part of before."
Iain describes Sandy as a "performer," explaining how he would put on a show and charm the servers whenever they went out to eat. "John was not like that at all, but he loved to tell stories and was very eloquent," he says. "They both enjoyed each other's company, but also other people's company a lot."
John and Sandy's circle of friends in Paris included other academics, writers and artists. The celebrated French poet Yves Bonnefoy lived around the corner from them, and Iain says Bonnefoy and Sandy would often get Chinese food together at a restaurant down the road.
Some of Iain's descriptions of his uncle surprise me. Despite their hesitancy to discuss being gay, Sandy and John were not prudes who shied away from any reference to sex or pleasure. In fact, Iain describes his uncle as "sensuous." He recalls one instance when Sandy regaled him with a story about a couple who lived on the floor below them in Paris. One warm evening, Sandy had witnessed the man slowly and seductively washing the woman's long blonde hair, and he took great joy in recounting this story as suggestively as possible to Iain. "He would quite enjoy telling you stories that were on the edge of respectable," his nephew says.
To many that knew them, the couple felt larger than life. After studying under John and Sandy in the eighties, Alan MacDonell would go on to join the department as one of their colleagues. "Other than my immediate family, they were the two people who influenced me the most," he says. The couple showed him it was possible to lead a successful academic life while also having a vibrant social life. Most of all, he says, they taught him what it meant to be a loyal friend who was there when needed. (Sandy's brother Grant refers to their commitment to friends and family as an example of Scottish "clannishness.")
I couldn't help but be charmed by all these stories, but I still felt a twinge of frustration. While I have no doubt that John and Sandy were loyal friends and family, did they not feel any solidarity with other queer people who couldn't afford the comfort and privacy that they had? Did they not recognize that it was because of people who challenged homophobia and put their lives on the line that they were able to live their own lives relatively freely?
I thought about how the world around them changed completely in the decades that they lived in the Pasadena, from the gay liberation movement of the sixties and seventies to the HIV/AIDS crisis of the eighties and nineties. It seems John and Sandy watched it all as passive observers. A friend of John's even told me that, in the last years of his life, John was "disgusted" by the open displays of sexuality at the Pride Parade, wondering what business anyone's sexuality was.
I can't help but think about what would have happened if John and Sandy had come out more visibly in the seventies or eighties. It's possible—perhaps even likely—that it would have had an impact on their careers. Maybe John wouldn't have been made head of the French department in the eighties.
But I also have a hard time imagining that their friends would have abandoned them in their moment of adversity. Perhaps by being more visible or by supporting local activist efforts such as Gays for Equality, they could have been a catalyst for change within the department or the university.
Their lives may have been different if they hadn't been so worried about the repercussions of their sexuality becoming known. When their colleague Gabbert reflects on this, he gets emotional. "You wonder how much more extravagantly their lives together would have bloomed and how much more would have been possible."
From my perspective in the present, I can't help but hold John and Sandy to modern expectations. In many ways, their story seems like a case of people with relative privilege neglecting the power they had to help others.
Today, there's an expectation in the LGBTQ+ community that those of us who are living in relative comfort will keep fighting for the rights of others until everyone in our community is safe. Even though many gay men—particularly white and cisgender men like me—no longer struggle to live openly, we still have a responsibility to support the struggles that remain, from advocating for trans rights to speaking up about police violence against queers of colour. 
I'm not perfect in this regard, either. I know I don't always do as much as possible to fight injustice, but I consider it my duty as a queer person today to lend my voice to these important causes when I can. It's my way of honouring the work of activists who came before me.
But maybe it's unfair to expect the men of John and Sandy's generation to meet today's standards. Not everyone has to be an activist, after all, and it's also impossible for me to fully understand the time they were living in. If the tables were turned, would I jump at the chance to politicize my identity at the risk of losing my job or apartment? Am I doing everything I can to use my privilege and class position to advocate for liberation?
Sometimes, I wonder if part of my uneasiness with John and Sandy's story comes from the fact that had I been in their position, I may have made the exact same choices.
In October 2011, Sandy passed away suddenly in their apartment. His death came as a shock; despite being fit and swimming nearly every morning, his life in the Pasadena ended at the age of seventy-six.
After hearing about Sandy's death, their neighbour Jon Schroeder visited apartment 4C for the first time. He had seen John and Sandy around the building before, and they'd exchanged pleasantries in the hallway, but he'd never paid them a visit. When he stopped by to give his condolences, John immediately invited him inside. "I sat down and he just started speaking to me. He was devastated," Schroeder remembers. "He never said Sandy, it was always my Sandy."
Schroeder visited John nearly every day until John's death three years later. He would bring John his morning paper and in the evening he would drop by for dinner. They'd talk about their days and drink J&B scotch out of crystal glasses, which Schroeder now owns. The two were unlikely friends. Schroeder was about half John's age, played in a rock band and had sleeves of tattoos. After John died in 2014, he had J&J—for John and Jon—tattooed on his arm in the style of the J&B logo. "We really cared for each other," he says.
When he met John, Schroeder was having relationship issues, and he says they were both "at that time in our lives when we needed someone to sit and talk to." Schroeder credits John for "opening up" his world and describes their friendship as a "great education."John would teach him about the "finer topics," such as classical music and French literature, and in turn Schroeder introduced John to contemporary comedians and basketball. ("He couldn't understand the game of basketball," Schroeder says. "These men are all eight feet tall. They just put it in the basket. There's no skill in that," John would say.)
Of course, John also told Schroeder about his life with Sandy, their travels and their times in Paris. One of the only times John would become frustrated with him was when Schroeder pressed him to write some of these stories down. "I constantly pursued him to write his memoirs about him and Sandy," he says. "I felt he had an obligation to write their beautiful love story for young people to read." But John constantly refused. "They didn't think about rocking the boat," Schroeder says. "They just thought everyone should live their lives."
Despite the fact that I've spent over a year learning and thinking about these men, the truth of them will always feel just out of reach. Without reading or hearing an account of their lives in their own words, it's impossible to know exactly how they felt about being gay, about the broader queer movement, or about their place in the world. In this way, John and Sandy are a bit like a blank slate for my own ideas and projections. At the same time, my fixation with their story—what they did and didn't do—has forced me to sit with the responsibility I have to future generations of queer people, and examine the way my own story fits within the expanse of history.

David S. Churchill, the University of Manitoba historian, cautions against "romanticizing" the past or "vilifying" it on the other extreme. Instead, he encourages a more nuanced reading of history that sees people, and what they face, in complicated ways, rather than falling into the trap of looking at them as one-dimensional characters. He says John and Sandy have been brought up a number of times in his conversations with people of their generation in Winnipeg. Despite their relative privacy, many queer people in the city seem to know about them and the long life they had together.
Churchill had heard about their dinner parties, but never had the chance to meet them in person, which he says he "regrets immensely." He says that John and Sandy were "exceptional" for how early and for how long they lived together. Churchill adds that his friendships with other people of their generation have been "enormously rewarding" for how they've illuminated different ways of moving through the world as a queer person.
Maybe that's what I was really looking for in John and Sandy's story—not some perfect representation of how to live as a gay man, but any representation at all. As queer people, we already have so few role models from their generation. So many of our elders and the stories they carried have already been lost, whether to HIV/AIDS, to violence, to suicide, or to shame and secrecy.
When I learned about John and Sandy, it felt like an opportunity to gain a deeper understanding of that generation. Somehow, their story felt more accessible to me than other accounts of history. I could picture them together, just a couple of floors below mine, bringing queer joy to a building that I had started to associate with grief and heartache. They reminded me another way of being was possible.
Really, any time that someone else's story can help us see our own more clearly is a gift. The first time I read Giovanni's Room was during a trip to Paris in early 2019. It was a particularly rough patch in my relationship and we were "taking a break." I had only recently learned about John and Sandy, and I moved through the city thinking of Baldwin's lovers, the lovers from the Pasadena and my own difficult love.
I was deeply affected by the description of David and Giovanni's toxic affair, and the ways Giovanni tried to work on his room, just like my boyfriend had done in our sunroom. The fresh coats of paint and bookcases carved into walls were futile attempts to beat back the darkness. "It was hard work, it was insane work, but I did not have the energy or the heart to stop him," David thinks. "In a way he was doing it for me, to prove his love for me. He wanted me to stay in the room with him."
In the end, David leaves Giovanni and his room, just as I knew I would leave my relationship, and the Pasadena along with it.
Just a month before I moved away from the Pasadena, in October 2019, an early winter storm buried the city in snow. More than thirty centimetres fell across the city in the few days before Thanksgiving. The city's trees still had leaves on their branches as they buckled under the weight of wet snow. Locals dubbed the event a "tree apocalypse." Thousands of trees came down across town, blocking streets, causing millions of dollars in damage and leaving thousands of homes without power.
I remember gazing out the window of our living room as the heavy flakes came down, feeling thankful for the warmth and protection the building provided. Outside, dozens of our neighbourhood's tall elms had split down the middle, including one right in front of our building. My boyfriend was away for work at the time. Although we hadn't broken up, our relationship was over. We had grown more and more resentful of each other's decisions, and our communication had all but ceased. I was left to enjoy our room in the apartment alone. The snow felt like a curtain drawn around a stage, with the Pasadena at the centre.
More than fifty years earlier, in March 1966, a similarly devastating snowstorm swept across Winnipeg. Nearly forty centimetres piled up over the course of the day, and the city was brought to a standstill by blowing winds that barricaded doors and swallowed cars with snow. People trapped downtown after work spent the night camped out on the floors of Eaton's and the Bay.
A few kilometres away, John and Sandy were cherishing the stillness. While the rest of the city struggled through the snow, the young couple walked to the corner store to pick up a leg of lamb, the most important dish in their culinary repertoire. Returning home to the warm nest of their apartment, they spent the rest of the weekend eating good food and enjoying what may have been a rare, uninterrupted moment alone, without a worry about the world around them.
They probably had some scotch and a bottle of wine. They had hundreds of records that they may have listened to, and it's likely that at some point John played the piano. "They wished it would go on forever," Schroeder says. I can imagine the joy that John and Sandy may have felt that weekend, savouring this slice of intimacy that they had carved out for themselves in the world.
Today, I count John and Sandy as part of the complicated heritage I have as a queer person in Winnipeg. Perhaps they wouldn't have liked that. But at the very least, I hope we could have had a conversation about it over a glass of J&B.

Isaac Würmann is a freelance writer and radio producer interested in the intersections of queerness, history, geography and politics. He has written for Broadview, VICE and Canadian Art, and produced documentaries for CBC Radio. He is based in Berlin.