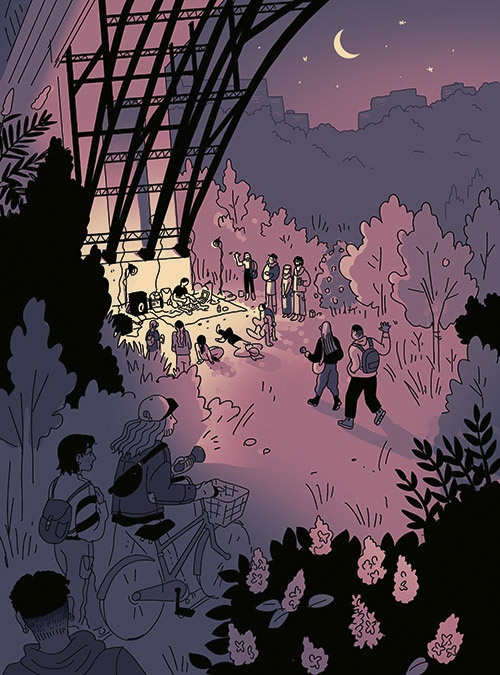 Illustration by Jade Armstrong.
Exit Music
DIY shows have been a lifeline for musicians. Now the tech industry wants to bring the scene above-board.
The sound artist Joda Clément was setting up  at the base of one of Toronto's Prince Edward Viaduct's many segments. Far above his head vehicles and subway cars zoomed along, but down here the focus was on him, as he got out his laptop and mixing board. The scattered crowd murmured amongst themselves, their conversations getting lost in the wild of the Don Valley. Thanks to an email sent out by organizers just hours before the performance, I was able to find the obscure location with ease. Others were too, arriving in groups and walking silently—as per instruction—with flashlights in hand and bicycles in tow along a narrow dirt path. This was the tenth event in a live music series called Extermination Music Night, which I had read about in an issue of Eye Weekly, a now-defunct free arts and opinion newspaper, shortly after moving to Toronto that year—2008. As the performance started, Clément summoned pillars of sound that rivalled those of the mighty bridge above us. I can still remember the glee and wonder I felt when a subway train roared across the structure's span, filling the surrounding valley with noise, and I realized that with his mess of wires, electronics and contact microphones, Clément was playing the bridge itself. As the rumbling reverberated across the exposed girders, he processed those sounds along with the environment's other ambient noises, replicating and feeding back upon the sonics of the space. The music invited us to hear our city in a completely original way, as if for the first time.
For many music fans, events like this one, taking place guerilla-style in public, or in an abandoned loft or someone's basement, drive our enthusiasm for local music. In my case, they're also foundational to shaping a career in music journalism. Clément's performance opened up DIY events to me, making attending the next show alone in a new city less intimidating, while also inspiring me to write about events like it and the artists they produce. Small-scale and intimate shows in unique locations are one of the many aspects of what makes living in cities like Montreal and Toronto, with their thriving artistic scenes, so appealing. They nurture emerging artists and provide spaces where experimentation can take place, while also helping to build out passionate, engaged communities of artists and fans.
As the live music industry struggles to recover from not only the impacts of Covid-19 but years of extractive business practices, DIY events and spaces, with their inexpensiveness and low barriers to entry, are increasingly important for their ability to support music scenes even in the most tumultuous times. This value has caught the attention of businesses and entrepreneurs looking to squeeze whatever capital they can from the music industry, while artists, communities and the cities they live in continue to get the short end of the stick.
Enter Side Door, a Canadian web platform that promises musicians a model for "touring without going broke," through facilitating concerts in spaces alternative to established music venues. The site, which officially launched in 2019, connects people who have access to an abundance of space—be it a basement, living room, cafe or church—with artists and entertainers looking to book a show. Users can utilize Side Door to list their space or act, or to purchase tickets for upcoming events. Though there are things like comedy shows scattered through the listings, music shows are its cornerstone. With Side Door, musicians can search for venues themselves, making them less reliant on the booking agents or touring agencies that act as gatekeepers for the majority of mainstream venues across the globe. For their service, Side Door takes 10 percent of the net funds from ticket sales, after taxes and fees to SOCAN, an organization that collects royalties on behalf of artists. The remainder is split between artist and host, based on an agreed-upon percentage.
Launching an Airbnb for concerts is a novel approach, but like Airbnb, Side Door's model exploits a precarious economic situation. In today's music industry, there's a dwindling supply of small-to-midsize venues to perform at, while those that remain are getting choked out by rising property taxes and the dominance of giant promotional and ticketing cartels. At the same time, there are an abundance of property owners or renters looking to capitalize on the space they have available to them in an increasingly unaffordable market where housing is seen less as a human right and more as a commodity. As supportive as platforms like Side Door claim to be, the relationship between physical spaces, the people who manage them and the artists who perform in them isn't a closed ecosystem. These tech companies are a part of a larger cycle of urban development and displacement that contributes to low artist wages, disappearing professional venues and a rising cost of living that makes turning your living room into a music venue not only appealing, but maybe necessary.
The current state of the music industry is one in which corporate profits soar high while artists struggle to break even. As pandemic restrictions lifted across the world, artists returned to a musical landscape even more dismal than how they had left it. In 2022, live music conglomerate Live Nation Entertainment boasted record-high profits of $732 million USD, eclipsing their pre-pandemic numbers. That same year, Live Nation CEO Michael Rapino took home $21 million USD, plus another $116.7 million USD in stock awards. But business isn't booming for the artists themselves. In an article for Toronto Life last fall, Polaris Music Prize–winning rapper and writer Cadence Weapon notes that after tallying up the numbers for a recent twelve-date US tour, he actually lost money. The cost for Canadian artists hoping to tour the United States is now at risk of becoming even more expensive, if the proposed visa fee increase of 250 percent is approved. Plus, there's still the persistent risk of contracting Covid-19, which can result in significant financial losses for artists forced to cancel dates or entire tours.
Staying home and relying on income from your songs alone is hardly an option;  SOCAN reports that the Canadian songwriters it represents earned an average of just $67.14 in royalties from Canadian digital streaming services in 2021. Artists signed to major labels control about 75 percent of the market share of recorded music today in Canada; just three artists, the Weeknd, Justin Bieber and Drake, all of whom are signed to major US labels, account for seventy-two of the top 150 streamed songs from 2005 to 2017. These circumstances make it nearly impossible for independent artists to break into the market. Before the industry became dominated by streaming, songwriting and recording royalties made up a substantial portion of an artist's income. Now, touring remains one of the only ways an artist can make money, but rising costs and growing risks are putting even that out of reach for most.
Statistics Canada's census data from 2016 indicated that the median income of musicians was just $17,900 that year, 59 percent less than all Canadian workers and well below the poverty line. The scene is not immune to social inequity, either—a 2022 study from the Canadian Live Music Association found that Black, Indigenous and other racialized workers in the live music industry made an average of $11,700 less than their white counterparts. Music workers take home pennies while CEOs like Rapino make millions off their labour, and there's no indication that these well-entrenched disparities will change anytime soon.
Side Door's focus on smaller-scale and one-of-a-kind performances is what its founders, Laura Simpson and Dan Mangan, hope can make the floundering music industry a much more equitable—and profitable—place. Simpson is a lifelong music fan who previously worked as a funding officer at Music Nova Scotia, a non-profit organization dedicated to growing the province's music industry. By night, she facilitated shows at her own DIY venue in Halifax, the Syrup Factory. Set in a converted Victorian home, the intimate venue has hosted Canadian indie acts like Housewife, the Rural Alberta Advantage and Dan Mangan, Side Door's other founder; a JUNO Award–winning and Polaris Music Prize–listed musician based in Vancouver. Whereas Simpson's experience with the Syrup Factory grew into other opportunities as an industry consultant, Side Door marks Mangan's first gig in the business world. Coming out of folk and independent singer-songwriter traditions, Mangan says he cut his teeth playing house shows in the mid-2000s, often finding them to be more lucrative as an emerging artist than playing the bar/club circuit. "If they took those same thirty people that showed up to the bar and put 'em in a living room, somehow I made $400 to $600 and sold CDs and felt like I was actually getting somewhere," he tells me over Zoom. Mangan and Simpson believe these DIY economics and ecosystems are the key to making the music industry more financially lucrative and sustainable for smaller artists.
Side Door's most recent figures indicate that they had facilitated 2,173 shows by December 2022, earning artists a total of $1,492,545. Establishing a live-music-focused platform a year before a global pandemic shuttered music venues and halted touring of any kind in its tracks has meant that they've had something of a delayed start. They took the opportunity to quickly set up temporary infrastructure for artists to be able to host their own private, paid streaming events, which helped elevate the platform's profile during lockdown while providing out-of-work musicians with a much-needed income stream. "I feel like when everybody else was kind of doing the sourdough thing, we were at our busiest," Simpson says.
Mangan believes the current state of the industry is the perfect time for a platform like Side Door to help elevate those marginalized by these inequalities. The platform's strategy doesn't involve addressing these issues directly, but rather tries to give artists another option. "We've been asked a lot of questions about if Side Door is the answer, and I think that we serve a different need. I would say we're an alternative path," says Mangan, explaining that they don't see the big industry players as enemies so much as operating in a different realm entirely. But the possibility of a true alternative path is dubious. All artists are still subject to the influence of the industry at large and its structural issues; all paths are shaped by the increasing inequality that limits how artists can move.
The barriers to entry into the music industry are the result of decades of industry consolidation in both the recorded and live music sectors. Rapino's Live Nation Entertainment, which reaps millions in profits while shaping an industry in which the top 5 percent highest-earning artists dominate nearly 85 percent of the live music market, is one of the contributors to this. The corporation, the result of a merger between ticket company Ticketmaster and promotions company Live Nation, is one of the largest live music companies in the world, and continues to grow through total market domination, and the tech-central moves it makes to maintain its power.
Once a humble ticket printing company, Ticketmaster began to eke out its control over the market in the eighties by mediating exclusive contracts with promoters, offering financial benefits through the levying of service charges in their ticket sales. Though there were attempts to cap such charges within the US in accordance with antitrust laws, Ticketmaster used its increasing market share to lobby against any reforms, and successfully pressured the Department of Justice not to enforce any preexisting antitrust legislation that the company defied. After Ticketmaster's consolidation of the live music industry, music promotion companies followed suit and formed their own monopoly through corporate takeovers, mergers and sales, becoming Live Nation.
Live Nation and Ticketmaster's rise to monopoly status, and their eventual merger in 2010, couldn't have been more perfectly timed. Both occurred during a period in which touring supplanted recorded music sales as musicians' primary source of income, due to, again, industry consolidation. For seventy years, six major labels had dominated the recording industry: Warner Music Group, EMI, Sony Music, BMG, Universal Music Group and Polygram. Between 1999 and 2012, a series of mergers turned the six into three: Universal, Sony and Warner, who now control over 75 percent of the market. The artists signed to their labels, such as Drake and the Weeknd, dominate music sales in Canada. A 2022 survey of the Canadian industry by research initiative the Cultural Capital Project summed up the disparity nicely: at the height of the CD boom in the nineties, there were more Canadian musicians making popular music who were able to reach audiences across the country than there are now in the streaming age, when access to music has never been easier. The disparity in the industry isn't just between the corporations and artists; industry consolidation is feeding into vast inequalities between artists as well, meaning that fewer artists have larger pieces of the pie than ever before. But even these top-earning artists aren't able to stand up to the dominance of the industry giants.
To strengthen and maintain its control, Ticketmaster introduced technology that it claims disrupts the marketplace in favour of the consumer. In 2022 the company introduced "dynamic" pricing on tickets, meaning that the cost of a ticket varies based on demand, much like Uber's surge pricing. They positioned the move as a deterrent against resellers and bots purchasing large swaths of tickets; but the fluctuating prices mean that Ticketmaster makes more money when an event is in higher demand. Deferring cost to an algorithm allows the company to avoid publicizing ticket prices in advance of their sale, obscuring how the base price of a ticket inflates as demand increases.
Other music-focused tech companies like Spotify deploy similar strategies. Upon its launch in 2008, Spotify positioned itself as a solution to music piracy, amplifying the recording industry's argument that piracy, not industry consolidation, was the culprit for the massive losses in royalty payments to artists. Yet until 2014, Spotify used the same peer-to-peer digital network architecture that piracy platforms like Napster were built upon, and the music they hosted was predominantly drawn from sources like the Pirate Bay, a torrenting site. Today Spotify has moved away from that model, but only pays a fraction of a cent per song stream—unless an artist is getting millions of streams, it isn't that materially different from theft, as has been argued by people such as Talking Heads' David Byrne and the members of the United Musicians and Allied Workers. Spotify's interruption of traditional payment schemes privileges companies like the big three labels, further entrenching their control while compromising most musicians' ability to build a sustainable career. Instead of disrupting the industry, exploitative tech-centric practices by companies like Ticketmaster and Spotify only further inequality while algorithmically clawing agency, transparency and rights away from the average musician. Though they might not have the industry power or scale that these companies have, Side Door is another tech startup that claims to offer a path toward equity, but actually has the potential—intentional or otherwise—to perpetuate the music industry's destructive dynamics.
The strategies used by Ticketmaster, Spotify and Side Door fit within a larger trend toward platformization—a business model in which a digital platform is launched as a marketplace that mediates between service providers and consumers, or between other types of user groups. Platformization gives companies the potential to exercise greater control over an industry, as they become the central hubs for their service or product. With their services, Uber and Airbnb were able to take over their industries and set the terms for what a taxi or lodging service should be. These companies typically launch their platforms with little thought for the wellbeing of the industry they upset, nor for the workers and consumers that make up their networks. The priority is wresting market control regardless of sustainability or ethics—everything becomes a commodity, including the user base itself, whose personal data is sold off. As we've seen with the way that Spotify has laid waste to traditional artist payment models, Uber has destroyed the livelihood of drivers and Airbnb has upended our neighborhoods, platformization can have dire material impacts on our cities and communities.
Shauna Brail, an economic geographer, urban planner and associate professor at the University of Toronto's Institute for Management and Innovation, studies the effects that platforms like ride hailing apps have on the shape of our cities. Though she commends Side Door's concept, Brail notes how Airbnb grew into a massive gentrifying force, and cautions that Side Door's model has no built-in protections that would prevent larger property management firms from monopolizing the service. "Once you have these [institutional] investors and property owners, it becomes less about, 'Michael opens up his living room to a band,' and instead, 'Ontario firm 327' goes out and buys ten or fifteen properties," she says. "You could see some pushing around how much musicians might earn if you have a couple of investors that are making it uncompetitive or monopolizing [it]." If Side Door were to scale up, Brail believes that logistical issues around zoning, land use, permits and licensing would likely appear. She imagines concerns may come up around using residential spaces for events, as has happened in Toronto with venues like Double Double Land and Soybomb. These types of frictions in which business interests rub up against local residents and the intended uses of a space are at the heart of gentrification.
A growing body of research argues that just the appearance of platforms in a city is like a red cloth to the bull of gentrification. A 2021 study in the Canadian Geographer from Agnieszka Leszczynski and Vivian Kong looked at the presence of platform apps across Vancouver, Toronto and Montreal, and claimed that visual presences like food courier signs and bike share stations actually make cities and neighbourhoods legible and appealing as gentrifiable. Platforms offer what Leszczynski and Kong describe as digitally-mediated consumption experiences: windows through which people view and interact with the places they live and visit, shaping their engagement with cities through the platforms' lenses of curated consumption. This concept applies to not just ride hailing or food delivery apps, but also to Side Door, as we can see by looking at the app's predecessor in spirit, Sofar Sounds.
Founded in 2009 and backed by famed British entrepreneur Richard Branson, Sofar Sounds is a music events startup that facilitates curated live music performances in unique spaces. Users scanning its digital platform will find events described by their geographical area, like "Intimate Montreal concert in Plateau" or "Backyard BYOB show in the Annex." Unlike my experiences at Extermination Music Night, which activated corners of Toronto that were otherwise off-limits or actually unused, Sofar sees entire cities as unused, playgrounds to navigate through a screen. It grants access to spaces without the hard, necessary work of building relationships with the people and residents who already have claim to them, doing little to foster meaningful connections to communities or places. Sofar does even less to help the local economy. In 2019, the company was investigated by the New York State Department of Labor with regard to its use of volunteers, which it relies on to set up, host and run their shows. After the approximately $460,000 USD settlement, Sofar announced that they would hire some part-time employees, but continue to use unpaid volunteers. Just as Uber's arrival meant worse pay and labour conditions for drivers, Sofar's platform-based approach to concerts didn't mean more jobs or better pay for music workers. Side Door doesn't take the same hands-on, curatorial approach to the shows on its platform, but it's in danger of having the same impact on the cities and communities it's disrupting. There's a marked difference between using your labour to build value for a scene and community, versus building value for a platform that you don't own or have a stake in. Companies like Side Door and Sofar look to DIY organizing as a model for their own venture capitalist aims, but the very things that make DIY desirable as a business model—its stability, its support for emerging artists, its built-in community—are successful because they resist treating people, music and places as transactional. When there's a new venue, artist or scene available to you with just a click, there isn't any incentive to stick around and build meaningful relationships with music communities; or to fight for that scene and its members when they face losing a space or being priced out of a city altogether.
Buoyed by the tech industry and its platforms, gentrification is sweeping across Canada and driving the affordability crisis. A 2019 Canadian study on short-term rentals published in the Canadian Journal of Urban Research estimated that Airbnb listings removed 31,100 units of housing from the long-term rental market across Toronto, Vancouver and Montreal. That lack of availability directly correlates to rising rents in each area. Data collected by the Canada Mortgage and Housing Corporation suggests that average rents across these three cities have approximately doubled since 2000. In 2022, the Regroupement des comités logement et associations de locataires du Québec found that newly-listed rental units in Montreal are 49 percent more expensive than rents paid by existing tenants, while property values have increased by 32.4 percent since 2020. In Toronto, where the tech industry has attempted to establish a "Silicon Valley North," the situation is similar. In a 2020 paper co-authored  by Brail and Tara Vinodrai about Toronto's changing economy, they note that it's the highest-ranked Canadian city for venture capital investment, and was the fastest-growing tech market of 2017 and 2018. "This situation has led to a housing affordability crisis that pushes people to make suboptimal housing decisions," Brail and Vinodrai write. "Toronto is the inequality capital of the country, its neighbourhoods are increasingly divided based on measures of income and race."
The increasing unaffordability brought about by gentrification is pushing artists and venues out of major cities. In Montreal, the end of the 2010s saw two iconic venues close due to higher rents and taxes. Experimental music venue Divan Orange closed in 2018, with punk pillar Coop Katacombes following in 2019. Both locations had been around for thirteen years prior to closing. In this climate of shuttering venues, DIY spaces and communities become even more necessary to sustain a city's music scene. While Side Door could potentially create more opportunities for unique shows and venues, their digitally-mediated commodification and mainstreaming of DIY shows exists as part of a pattern of platformization, within the same tech-led gentrification responsible for the erosion of the music scene and the unsustainability of music careers in the first place.
Almost exactly ten years after my Extermination Music Night experience under Toronto's Prince Edward Viaduct, I was back at another live music event tied to the city's subway system, this time as a journalist on assignment. Though it was also in an unusual space, set in the decommissioned Lower Bay Station, this event was by all accounts above-board. Then-mayor John Tory made an appearance, along with the city's new Music Officer, Mike Tanner, and there was plenty of locally-brewed beer handed out from the subway cars that framed the performances. Hometown favourites Fucked Up headlined, carving out a little bit of punk fury amidst all of the order. The concert was a remarkable and sold-out success, but the fact that the city was forced to rely on ad-hoc spaces to support the music scene was unsettling; though unique, pop-up uses of spaces don't address the issues that cause music venues to close in the first place.
Two years prior, Toronto City Council had unanimously voted to declare Toronto a "Music City," a move intended to signal how seriously our officials were taking our local scene. This declaration came at the recommendation of the Toronto Music Advisory Committee, made up of the Music Officer and industry experts, created in 2013 to liaise with city staff on music industry matters. Thriving arts and culture scenes were beginning to be understood as an important but overlooked driver for economic growth. Toronto was looking at the example set by Austin, Texas, which had declared itself the new Silicon Valley with its own "Silicon Hills." The low cost of living in the city made it desirable to both artists and startups, and how Austin balanced the two groups' interests was laid out in a report commissioned by Music Canada, the lobbyist group that represents the big three labels' presence in the country. The report detailed how Toronto could leverage Austin's best practices to support its music scene, and spelled out why that was important: Austin's music scene, like Toronto's, was integral to the growth of its tech industry.
The renewed political attention and investment in the city's music scene meant there were staff and resources dedicated to solving the problems local musicians were facing. But it still wasn't until 2022 that Toronto was finally able to secure an unused, city-owned storefront for It's OK*, a Black-led DIY performance series, to launch a multidisciplinary venue, social space and studio for Black artists. The announcement felt like a major win, but it came with a caveat: It's OK* would only have use of the space until 2024, at which point it would be demolished to make room for a park, cultural space and affordable housing. This built-in expiration furthers the idea that music and culture are never an end unto themselves. Brail observes that music venues are often seen by city planners as temporary. "It's economically painful and culturally painful for a city [when they close]. Musicians are also often thought of as a sign that a neighborhood is about to become desirable for households with higher incomes. And so musicians are constantly being displaced. But there should be an intentional effort to think through, how do we keep these pieces that make a city an interesting place to be?"
Platforms like Side Door aren't the answer to that question, because they don't address the root causes of the issues the Canadian music industry faces—the consolidation of live and recorded industries, and the gentrification of our cities. On the other hand, these apps push this situation further, entering our urban centres as vectors of gentrification while exploiting the value of the music communities that were already there. The end goal of venture capitalism is achieving the highest possible return on investment, which is often a point where its founders sell the company off to the highest bidder. Should Side Door reach this point, there's nothing in their design that ensures a change in ownership won't affect the time and energy artists, hosts and audiences have spent investing in the platform. "We were built for scale, and so we're necessarily going for—cheekily, but not really—world domination," Simpson says. Investors also seem to believe in Side Door's potential for growth. Simpson and Mangan had a successful stint on CBC's Dragons' Den late last fall, when venture capitalist Arlene Dickinson offered the startup half a million dollars in a convertible note, a type of debt that can grow into equity if Side Door is successful in their quest, and manages to commodify the DIY music industry.
The musicians who are at the centre of running and maintaining DIY spaces across Canada say that trust is the basis of being able to operate a venue inside of one's home, loft or studio successfully, and that isn't something they would feel comfortable delegating to a platform. Stella C., a Toronto-based musician who helped operate house venue Ozzy's Palace from 2015 to 2018, says that arriving on a city's DIY scene typically necessitates a complex dance of earning trust. "As a newcomer you do have to gain people's trust a little bit. Once you've gone to enough shows and seen enough of the same people, [people will see your] shared commitment to what the scene is about," they explain. Entering a DIY scene means learning how to engage with its people and spaces in a respectful way, which takes time and effort; a stark contrast to the simple scroll-and-click of Side Door's shows. But this intense trust-earning process is for a reason: opening up one's living room or basement involves a lot of risk, as a misstep might lead to eviction. Side Door does away with this community-based process, bringing DIY spaces greater visibility and inviting more risks to the artists and venues, with next to no support from the platform itself.
Keeping a low profile is key to the survival of DIY venues, and is something their communities have evolved tactics for maintaining over time, like the trust-earning processes for newcomers. Montreal DIY space La Plante, which served as a home and music venue for leagues of musicians, artists and radicals for a decade until it was shut down in 2021, used a number of techniques for lying low. "We would never publish the name and the address together. You could say that the show is at [La Plante], or you could say it's at 185 Van Horne, but never together," says Luke Loseth, who writes and performs as experimental pop artist Holobody, and who was involved with La Plante from 2013 to 2016. Other intentional strategies included not serving alcohol and having a physical location that was tucked away from residential streets above a hat shop.
DIY venues like Ozzy's Palace and La Plante serve not just as places where audiences can listen to music, but as critically-needed community hubs for artists and people on the margins of society and sound. Though Loseth arrived later, he was aware of how the space had served as a headquarters during the 2012 Quebec student protests—a sense of politics and ethics was a throughline across its ten-year lifespan. The space also afforded Loseth artistic opportunities that just could not happen in other, more above-board venues. He mentions the "sleepover drone" series making an impression on him, describing the events as all-night performances of improvised ambient music that artists would take turns contributing to. "When you go through a night like that, you feel like you shared something meaningful with everybody else who's there. So it really fostered a community."
When asked what thought they've put into how their company commodifies the time-honoured tradition of the house show, Mangan was quick to respond that "clearly we didn't create the house concert, you know? But one thing that we can do is daylight it." Bringing the tradition above-board is just the thing that displaces DIY from its community-centric origins, and invites more risky visibility. Though Side Door takes it upon themselves to remit to performance rights organizations on behalf of event hosts, much of the responsibility for each Side Door show, for things like insurance, assembly permits, liquor licenses, noise attenuation and adherence to fire code, remains with the host, further exposing what few communal spaces we have left to scrutiny from the authorities with zero support. Looking at what the risks involve, and who in the relationship takes on the lion's share, it's hard to see Side Door as anything other than exploitative. Artists are already being priced out of their profession, and now a tech industry platform is charging 10 percent to facilitate what musicians and DIY communities have been doing on their own for generations. The widening gap between the richest pop stars and the bedroom rap artist isn't a problem we can solve by simply abdicating more control to a company; in fact, abdicating control to companies, like Live Nation Entertainment and Spotify, is precisely why we're here.
One afternoon last summer, close to dusk, I attended a small show in a park close to my apartment, tucked away on a residential street in Toronto's west end. It was a part of a series called World Peace, organized by local experimental pop/R&B artist Thom Gill, and featuring other local indie acts like Jane Inc, Fiver and Alex Lukashevsky. It was a warm evening, and my friends and I claimed a spot on a bench as the musicians set up in a dried-out splash pad, a plastic toy truck at their feet, a couple of shared amps between them. Around thirty people showed up, stretching out in the grass or standing nearby, chatting and waiting for the musicians to start. As I sat there, friends and acquaintances stopped by to say hi and catch up, some of whom I hadn't seen since before the lockdown. Lukashevsky took to the mic first and started singing, strumming chords on his guitar as the crowd quieted down. As each of the artists played, the bowl-shaped concrete of the splash pad acted as an additional amplifier, helping carry the tender songs up and over the neighbourhood. People walking by would stop and watch for a while; kids shouting and playing off in the distance became a part of the music. I had seen each of these artists before and came to this show out of a longstanding interest in their work and art. Rather than treating the event as some passing curio, or a safe and reliable way to fill an evening, I showed up to play my part in a relationship; to connect with the music, the people it draws out and the neighbourhood around us. I'd walked past the park countless times previously and never thought about it as anything other than a park, but it made perfect sense as a makeshift stage. By the time the sun had set, the music was over, but it had changed the space forever; I'll never see it the same way again. ⁂
Michael Rancic is a Toronto-based freelance writer and co-founder of the music journalism cooperative New Feeling. His work has been published in Hazlitt, the Walrus, Bandcamp Daily, NOW, MusicWorks and Spacing, among others.