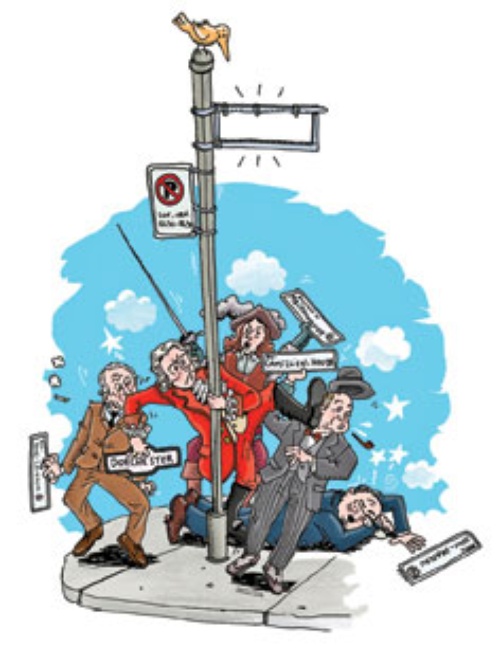 Illustration by Michel Hellman.
Where the Streets Have Strange Names
Although Montreal's streets may be crumbling, their names show that our history has always been filled with crackpots and crooks.
The names of streets and landmarks say a lot about a city. Montreal is no exception. You learn something by walking along René Lévesque Boulevard and seeing it turn into Dorchester Boulevard the moment you enter Westmount. But our toponymy isn't just about divisions. It also offers reassurance to a city demoralized by scandals. Although the streets themselves may be crumbling, their names show that Montreal's history has always been filled with crackpots and crooks.   

Maisonneuve Boulevard is a good place to begin this tour. The street, along with this magazine, owes its name to Paul de Chomedey, Sieur de Maisonneuve, founder of Montreal and religious fanatic. To appreciate the extent of his zealotry, consider one episode that's typical of his leadership.

Maisonneuve and his small band of colonists first arrived here in May of 1642. By December of that year, they were in trouble. The St. Lawrence River was rising, threatening to flood the little outpost they called Ville-Marie. Did Maisonneuve scout for a new location? Or relocate the outpost's supplies to keep them dry? No—he planted a crucifix at the edge of the river, to which he affixed a note to God with the following proposition: Stop the flooding and I'll build You a bigger cross. With a view.

God, in His infinite-yet-questionable wisdom, accepted this offer and the flooding stopped. Maisonneuve kept his end of the bargain by erecting a giant crucifix on Mount Royal. It has been re-erected several times since then, and the current version lights up at night to continually remind Montrealers of God's mercy (or perhaps of a Justice album cover).

Jean Drapeau Park, the next stop on our tour, is named for Montreal's longest-serving mayor. Drapeau was a visionary who gave the city most of its modern icons: the Metro, Place des Arts, Expo 67 and the Olympic Stadium. They didn't come cheap. Drapeau famously quipped that "the Montreal Olympics can no more have a deficit than a man can have a baby." The games went on to lose $1 billion. In fact, cost overruns for construction were so high in the Drapeau era that, by 1974, the Quebec government launched a public inquiry into the industry. Sound familiar?

Maurice Duplessis Boulevard, named for Quebec's populist premier from Trois-Rivières, may be the most inspiring street name of them all. Some historians credit Duplessis as a builder and modernizer. Others decry him as a social conservative with authoritarian tendencies. Regardless, they agree on one thing: Duplessis didn't like immigrants. Especially Italians.

So when Montreal decided to commemorate this decidedly non-cosmopolitan leader, the city took irreverence to new heights and chose a street in the heart of Rivière-des-Prairies. If you've never been, the boulevard is home to many fine establishments like D'Agostino pizzeria and Sorrento's bakery, where anyone from the neighbourhood will inform you that it's pronounced "Duh-plessy." "Morris" would be thrilled.

The list goes on. Camilien Houde Way, the road atop Mount Royal, commemorates a mayor who said that cars "would have to pass over my dead body" before they could drive on the mountain. The borough of Lachine was originally named to mock the territory's owner, Robert de La Salle, a seventeenth-century explorer who never did find that route to China (la Chine). And the city of Dollard-des-Ormeaux honours one of Maisonneuve's compatriots, whose grand achievement was the failed armed robbery of some Iroquois—an act later rebranded as patriotic martyrdom.

Montreal has always been a tumultuous and unreasonable city. It's the city that hosted Parliament until 1849, when Montrealers burned it down and government fled to staid and sober Ontario. It's a city that has, for the most part, resisted the boring and businesslike oppression of the grid system. It's a city that thrives in spite of its leaders, not because of them. We may not do "orderly" here, but Montreal will endure. These streets outlast, and eventually forget, their namesakes.