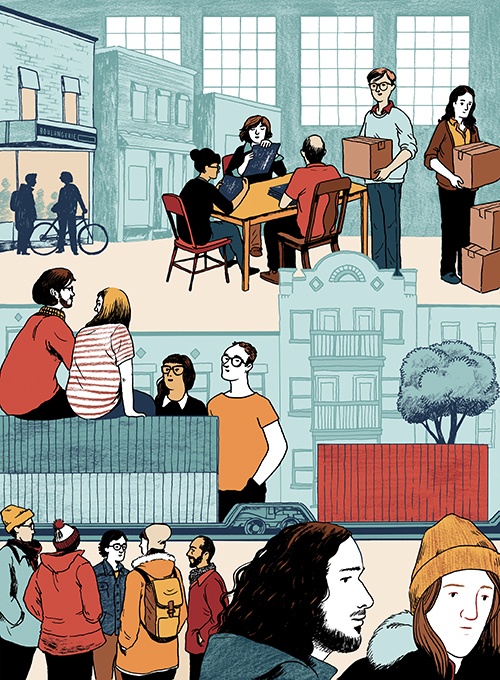 Illustration by Jonathan Dyck.
Alternate Universe
Behind the scenes at Montreal's iconic indie label, Constellation Records.
Unbeknownst to their conductors and crew, the freight trains that pass through Montreal's Mile End neighbourhood have, for the last twenty years, been crushing pennies—thousands and thousands of pennies—placed on the tracks first by members of the enigmatic instrumental post-rock collective Godspeed You! Black Emperor and, these days, by the staff at their label, Constellation Records. Since the summer of 1997, one of these newly smooth copper-plated discs has been slipped inside each and every vinyl copy of F#A#∞, Godspeed's debut record, which Constellation re-presses a few times a year to meet sustained high demand. Along with the penny is a typewritten, fragmentary missive that includes the phrases, "we made a record here in [M]ile End," and "THIS IS MILE END MY FRIEND."
"I think the penny on the tracks was my idea," says Godspeed guitarist Efrim Menuck. "It was just a way to ...