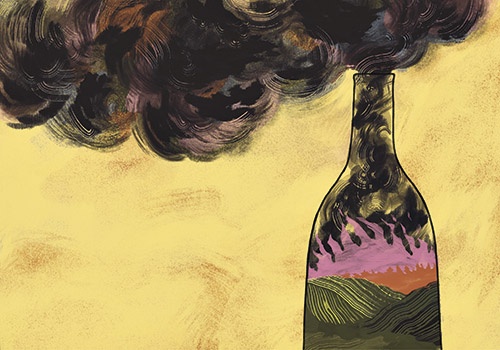 Illustrations by Maia Grecco
Where There's Smoke
In the Okanagan, reports Paloma Pacheco, wine and wildfires make for a problematic pairing.
On the afternoon of August 18, 2020, Evan Saunders was getting ready to finish up his workday. It was the height of summer in British Columbia's Okanagan Valley and the blocks of pinot noir and chardonnay he and his vineyard team had carefully tended since winter were flourishing. Still, late August wasn't a time for rest: as head winemaker for Blasted Church Vineyards, a popular winery on the eastern shore of Skaha Lake, Saunders was busy bottling last year's vintage and keeping an eye on the wine aging in stainless steel tanks in his cellar. It had been a long day and he was looking forward to clocking out and returning home.

Around 2 PM, his assistant winemaker found him in the cellar and told him he'd seen smoke on Christie Mountain, about two kilometres northeast of the winery. Saunders didn't panic. Locals in the ...