Maisy's Most-Read Stories of 2017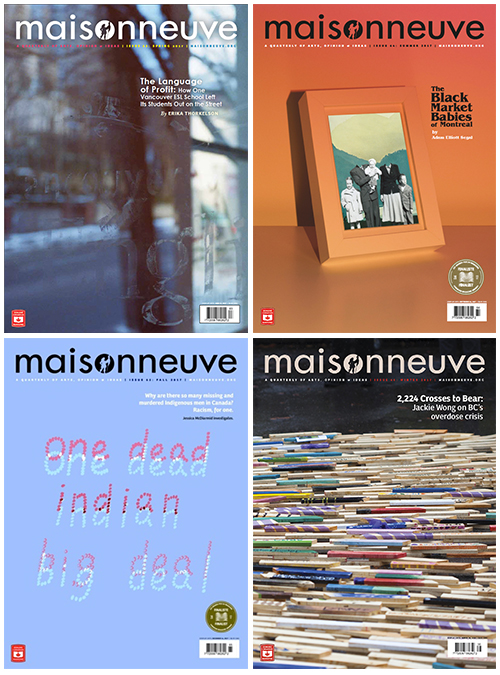 Our eighth annual round-up of the most-read pieces, from cover stories to blogs, posted on the Maisy site. Here are 2017's top reads.
Magazine
1. "Ku Klux Canada" by Robyn Maynard
Robyn Maynard on our nation's forgotten and far-from-over history of populist anti-Black violence.
2. "New Space, Old Politics" by Erin Flegg
How a new women's library in Vancouver became a battleground in the fight to define feminism.
3. "Let Them Eat Cake" by Davide Mastracci
Historically, Italians were called ignorant, subversive and prone to violence. While the groups of immigrants coming to Canada have changed, prejudices towards them have not.
4. "Black Market Babies" by Adam Elliott Segal
Religious matching and lax anti-trafficking laws led to a booming underground market for infants in mid-century Montreal. Adam Elliott Segal, the son of one such adoptee, investigated this forgotten chapter of Montreal's history for our Summer cover story.
Blog

1. "Canada Reads: The MRA Discussion Board Edition?" by Alicia Elliott
After a week of sometimes-heated debate, writes Alicia Elliott, this year's Canada Reads jury determined what Canada needs right now: to continue being its problematic self.
2. "Pitching: An Editors' Roundtable with Haley Cullingham and Erica Lenti" by Andrea Bennett
Hazlitt senior editor Haley Cullingham and This magazine editor Erica Lenti joined Maisy EIC Andrea Bennett for a roundtable about pitching stories to magazines.
3. "Overturning Scarcity" by Amber Dawn
In this excerpt from Making Room: Forty Years of Room Magazine, Amber Dawn argues against scarcity and shame in Canlit, celebrating the opportunities that diverse writers create for themselves.