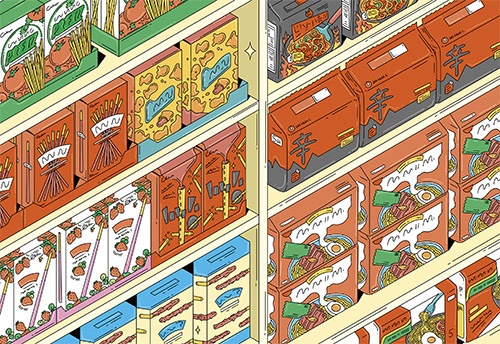 Buying into Belonging
Asian supermarkets have become a one-stop shop for cultural identity. Katia Lo Innes wonders if consumerism comes at the cost of community.
Supermarkets were my favorite American thing.

—Ling Ma, Severance 
I wanted to find God but I couldn't go to church, so instead I went grocery shopping. Stopping by the T&T, I perused the packages of expensive instant noodles as another wave of illness swept through Toronto. I told myself that grocery shopping could be meditative, that it was good I was buying Chinese food, that food was supposed to have an inherently generative power. I had been reminded, time and again, that food could bring me closer to my family, to my people, and to myself. But really I just needed something to eat. 
The Asian supermarket has become a quasi-religious site for many Asians in North America, one that is often framed as a space of connectivity and belonging. One T&T ad ominously states: "Miss home? We're here for you." Chain stores like T&T ...