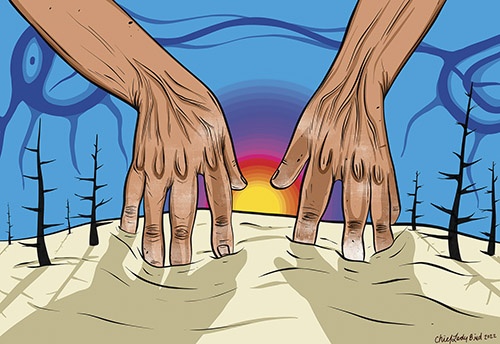 How to Skin a Muskrat
Métis people have always asserted sovereignty through their food knowledge. Samantha Nock's family carries on the tradition through kitchen table governance.
my grandmother stories follow me,

spill out of their bulging suitcases
get left under beds,
hung on doorknobs
—Marilyn Dumont, "âcimowina"
"Grandma," I ask, "what's the recipe for bannock?"
My kokum sighs and gives me vague measurements: a bit of flour, a sprinkle of salt, some butter, a pinch of baking powder. We are in her tiny, worn kitchen in her old house in Fort St. John, BC. The kitchen in this home, which is affectionately called "The House" by those who are familiar with it, is the centre of our family. Antique aspic molds hang on the walls. Two cabinets loom at the entryway, sagging with age. They hold my kokum's special items. The heart of the kitchen is the old solid wood table.
The table is where we are governed, where decisions are made, belly busting laughs are bellowed, and grief is held. Growing up, there ...