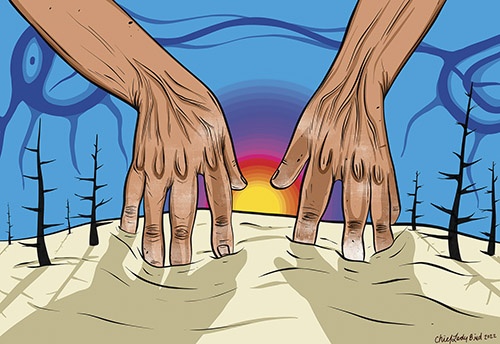 How to Skin a Muskrat
Métis people have always asserted sovereignty through their food knowledge. Samantha Nock's family carries on the tradition through kitchen table governance.
my grandmother stories follow me,

spill out of their bulging suitcases
get left under beds,
hung on doorknobs
—Marilyn Dumont, "âcimowina"
"Grandma," I ask, "what's the recipe for bannock?"
My kokum sighs and gives me vague measurements: a bit of flour, a sprinkle of salt, some butter, a pinch of baking powder. We are in her tiny, worn kitchen in her old house in Fort St. John, BC. The kitchen in this home, which is affectionately called "The House" by those who are familiar with it, is the centre of our family. Antique aspic molds hang on the walls. Two cabinets loom at the entryway, sagging with age. They hold my kokum's special items. The heart of the kitchen is the old solid wood table.
The table is where we are governed, where decisions are made, belly busting laughs are bellowed, and grief is held. Growing up, there was reserved seating at the table, an unspoken tradition. My grandpa sat with his back to the sliding glass doors held locked by an old broom handle. This is where he would play game after game of solitaire and drink iced tea out of a plastic measuring cup. My kokum's seat was across from him, with shelves of cookbooks behind her. The other spots were open for visitors. When my grandpa passed away, I remember looking at his spot at the table and realizing how full empty space can be.
My kokum puts a faded orange mixing bowl on the table, the plastic table cover crinkling underneath. She pours flour into the bowl. "You better pay attention if you want to make bannock," she says.  She's going to show me, not tell me. I'm not allowed to touch any of the ingredients. My only job is to observe. In my family, there's a playful understanding that you've only succeeded in making bannock once kokum approves. So far, I've reached a "good, but greasy." She is the sole authority in this kitchen.
It would be easy to place my kokum's kitchen governance into the colonial dichotomy of gendered work, but it is disempowering to frame the conversation within the lens of white Western feminism. Métis people are called Otipemisiwak, meaning those who rule themselves. We are sovereign over our genders, our work, and how we govern ourselves. It is integral to look beyond colonial conceptions of gender to fully understand that Métis women have historically governed our communities through the domestic sphere. Since our beginnings, we have been asserting the sovereignty of our Nation through food and establishing our survival through kitchen table governance. 
Food is political. It has been weaponized by settler powers as a means of removal and reclaimed by future generations as a means of refusal. I often think about a story my kokum told me about her time in residential school. The nuns and the oblates were eating roasts, cakes and pies while the children were starving. My kokum stole desserts from their tables, using the little freedom she had, and brought them back to share with her schoolmates.
This act of defiance echoes past acts of defiance by Métis women rejecting colonial rule in our homeland. In her book One of the Family: Métis Culture in Nineteenth-Century Northwestern Saskatchewan, Métis historian and academic Brenda Macdougall writes that in Northwest Saskatchewan, the homelands of my ancestors, our communities are defined through our maternal connections to land. Voyageurs and fur traders who were expanding their networks up north married into complex kinship structures. The women, coming from Cree and Dene communities, had intimate knowledge of the land and food systems.
Fur trade in Northwest Saskatchewan was the main colonial economy in the nineteenth century and, as such, trade posts were established. The Hudson's Bay Company (HBC) had a post at Île-à-la-Crosse, the community my family is from. Île-à-la-Crosse is a small northern Métis village, about five hours north of Saskatoon. Though these posts were generally run by men, Métis women exerted control through their connections to food and land. The fur traders and commissioners who moved to the Northwest lacked this knowledge.
The women had been living in relationship with their home since time immemorial, and often used these knowledges to feed the men at these posts, either through tending to gardens that stocked the trading posts, showing them how to harvest wild game, or fishing the lakes. Not only did the women of the community hold all the food knowledge, they also came from large and deeply interconnected kinship systems. The Métis family networks were grand, complex and powerful. The HBC men feared the power of our kinship.
When I think about this inherent power, I think of Mrs. Kirkness and her husband. As Macdougall tells the story, Kirkness's husband was an HBC fisherman, but she likely did the actual fishing for the post. Upset one day by an argument, Kirkness left her role and her husband and began fishing for the rival North West Company (NWC). The HBC was so reliant on Kirkness's skills that they worried their fisheries would collapse without her. They sent men to plead with her to return, but she refused. Eventually, her husband deserted his post and joined his wife at the NWC, only to later return to his HBC post without her. Because of this conflict, and many other similar familial ones, the HBC eventually abandoned its post at Île-à-la-Crosse in the early 1800s. 
In her poem "this, is for the wives," Métis poet Marilyn Dumont writes: "this, is for the wives whose names were not important enough to mention." Kirkness may not have previously been recorded by name in the fur trade journals written about this conflict, but her resistance is everlasting. 
When my great-grandma, my capan, moved our family from Île-à-la-Crosse to Meadow Lake, a small town about two hours south of Île-à-la-Crosse, she snared muskrats and geese to feed her family. I don't have many memories of my capan, but what I do remember is a woman smiling and talking to me in Cree. She didn't speak English, and I didn't speak our language, so we were never able to speak to each other. I think often about how she survived, fed her kids from knowledges older than Canada, and ensured that my generation of our family could exist.
I don't know how to skin a muskrat.
It's easy to romanticize the misty concept of "living off the land" and reclaiming our traditional foods. It's a simple comfort to hide in, this ever-unreachable idea of The Land. The colonial project of "Canada" continues to further displace and dispossess us from our traditional lands and the knowledges that are held there. Sometimes it's easier to idealize The Land as a concept than it is to face the many ways in which we are disconnected from our homelands. The division between The Land versus The City, or urban versus rural, is an unfair and false dichotomy to perpetuate. This separation serves the colonial project by erasing Indigenous people from the city, and the city from Indigenous lands.
Day-to-day lived realities differ among Indigenous peoples, and the larger conversations around infrastructure and access need to be addressed. There is a water crisis on many rural First Nations reserves, with thousands of Indigenous people unable to access safe drinking water. Everywhere in this so-called country is Indigenous land. Indigenous land does not stop at a city sidewalk. My capan, snaring muskrats in Meadow Lake, was still enacting her sovereign rights in our homelands.
Every day, we enact little sovereignties. I am here because of the confluence of my ancestors and their survival. I never feel more at home in my body and in my being than when I'm making a pot of hangover soup with my cousin, a cousin I found through entangled bloodlines in the city. My kokum's kitchen table, old and worn with age, is sovereign land. I connect with her and my capan while my aunty shows me how to make cabbage rolls for my grandpa's celebration of life. I tease my mom as my aunty shows me how to roll rice and ground meat in boiled cabbage leaves, laughter filling the kitchen and mingling with grief. It's the same kitchen where my small chubby child hands tore meat off of boiled and salted neck bones, where grandpa bribed me with dimes to eat spoonfuls of pickled herring. The gathering of Métis in kitchens across the Prairies and the North has always been a source of our power, our governance, the heart of our Nation.
As I enter my thirties, a new stage in my life, I think about my role in this kinship web. I learn the names of our foods in our language, my mouth filling with awkward syllables. Every time I stumble over a new word, I think of capan speaking to me. New sounds, hanging heavy on my lips, speak the names of my kin: misâskwatômina, I introduce myself to the saskatoon berries. More words stumble out of my mouth: ihkapaskwa, môswa, wîhkaskwa. With each new word, I am reintroducing myself to my more-than-human kin. Now, I can string simple sentences together.
kikwêy itowa mîcowin mâwaci kiwihk'stîn? What is your favourite food?
kindawihtîn cî l'tî? Do you want tea?
kiwihk'stîn cî misâskwatômina? Do you like saskatoon berries?
ninohtihkatân. I'm hungry.
ninohtihkatân. ninohtihkatân. ninohtihkatân. I'm hungry. I'm hungry. I'm hungry. I'm hungry to fill the bellies of the next generations with our language and our foods. I'm hungry to fill my own belly with enough of our language so that one day, when I meet my capan in the spirit world, I can introduce myself to her. I hope we're sitting at my kokum's kitchen table, a bowl of bannock resting on the plastic tablecloth. ⁂
Samantha Nock is an âpihtaw'kos'ân writer who grew up in Treaty 8 territory in Northeast BC. Her family comes from Île-à-la-Crosse, Saskatchewan. Currently, she is located on the unceded territories of the Musqueam, Squamish and Tsleil-Wautuh peoples.