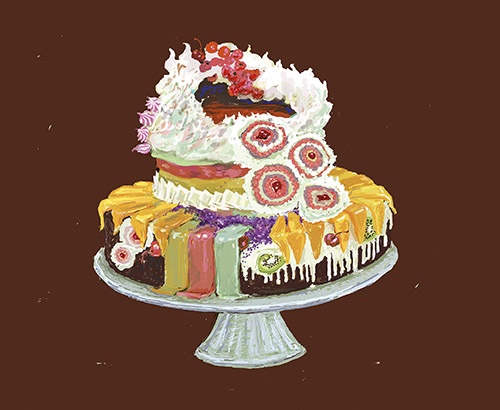 An Ugly, Sweet Thing
Abandoning the desire to make a perfect cake, Chantal Braganza finds meaning in the mess.
A few years ago, after watching a sci-fi movie, I felt like making a cake. An ugly one, with weird frosting patterns that didn't repeat themselves and pieces of fruit popping out of random places. I wanted something decidedly antithetical to the cheerful spirit of pastry and more like metastasized cancer cells, which feature prominently in Annihilation, the film I had watched. 

In it, Natalie Portman plays a biologist and military veteran on a mission to investigate a swampland where an alien presence is rearranging the ecological environment on a cellular level to the point of irrecognition. A fleshless bear inherits the voice of a woman it kills; a man's intestines twist themselves into knots until they burst free of his body, burrowing into a nearby wall and blooming like the spores of a colourful fungus. 
This sudden desire to make an ugly, sweet thing felt like my ...