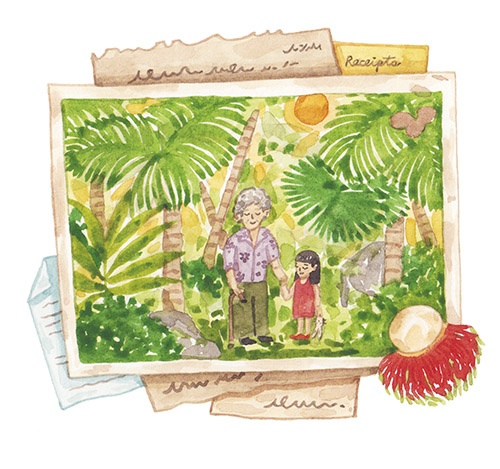 Illustration by Justine Wong
Pulut Hitam (Black Rice Pudding)
From her nenek's kitchen, Sofia Osborne shares a recipe for holding her grandmother close.
Ingredients: 

1 cup black glutinous rice 
4 cups water 
2 pandan leaves 
1 cup palm sugar 
½ teaspoon salt 
½ cup coconut milk 
Directions: 
1. Take the old elevator to the sixth floor. Knock on your grandparents' door. Knock again, louder. 
When your nenek finally opens the door, smile and ask how she is. Bend down and hug her, the only person in the world shorter than you. Savour the smell of her, dried flowers and spices you can't place. Let her press her nose against your cheek and inhale. This is her way of kissing you. 
Squeeze past the fridge and examine the magnets covering the dull white doors. They spell out cities like a road map: Las Vegas, Amsterdam, Sydney, Beijing. Think about where your nenek came from—where a part of you came from—and how far she travelled to end up here. Think of her ...