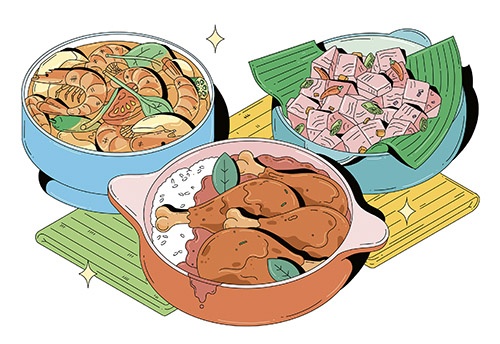 Illustration by Kathleen Fu
Where Are the Filipino Restaurants?
In a country with countless culinary options, Jadine Ngan asks why it's so hard to find food from the Philippines.
For months after moving to Toronto's Little Italy neighbourhood, I walked past Kanto by Tita Flips without ordering anything. The tiny restaurant, housed in a shipping container at Bathurst and Dundas, always had its shutters drawn by the time I got home from class. That was okay, because I didn't exactly feel a sense of urgency to try the food. My family is from the Philippines, and every dish that Kanto offered was familiar—if not in taste, then in name. Still, I felt regular pangs of longing to eat something, anything, from the menu. 
A few years ago, I finally made it to Kanto during opening hours. A woman took my order from behind a sliding glass window that opened into a cramped kitchen. My food would be ready in ten minutes, she said in Tagalog. The sound of the language, directed at me, made my throat ...