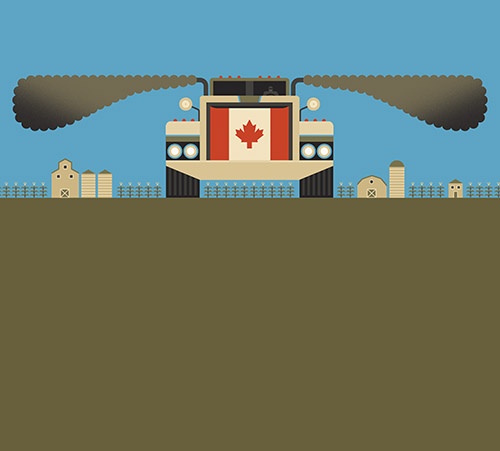 Reap What You Sow
Right-wing populism is on the rise in some Canadian farming communities, reports Sophie Kuijper Dickson. Will it put our food systems at risk?
Last winter, Ralph Lang reached a breaking point. After two years of frustrations with Covid-19 restrictions, he hung a big Canadian flag across the front of his eighteen-wheeler, usually used for trucking grain, and invited his neighbours to join him at the Freedom Convoy in downtown Ottawa. Twice, he made the hour-long trip to the city from his farm on the Quebec side of the Ottawa Valley to bring food and support to the thousands of people occupying the city's streets. When the streets finally cleared at the end of February, Lang worked with a handful of neighbours from across the region, known to most as the Pontiac, to form the Government Accountability Committee—a tiny, nonpartisan group with a mandate to monitor and challenge all levels of government that "hinder [their] civil liberties."

Lang and his fellow committee members are angry about federal and provincial policies that they ...